Irish actor Bryan Burroughs has been honoured with a Stage Award for Acting Excellence for his Edinburgh debut in his play Beowulf: The Blockbuster at the Edinburgh Festival Fringe.
Burroughs received his award in front of a full house at the Pleasance Courtyard venue on Saturday August 23.
The Carlow actor said of his win: "I'm delighted to receive the prestigious Stage Award for Acting Excellence and to be bringing it home to Ireland. It's been a brilliant Festival for all of the Irish Theatre practitioners and the support from and towards each other has been palpable.
"A massive thank you to Team Beowulf and to everyone who made my debut at Edinburgh such a wonderful experience."
Written by Burroughs, developed and directed by David Horan and produced by Pat Moylan, Beowulf: The Blockbuster was the only production of the 3,193 at the Festival to receive six five-star reviews.
A short Irish tour will take place later this year; for more see: www.beowulftheblockbuster.com.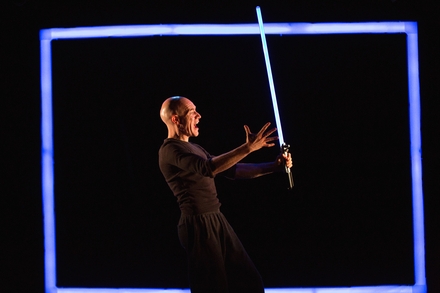 Bryan Burroughs in Beowulf: The Blockbuster Photo: Amanda Gentile, courtesy of Irish Arts Center