Power in the Blood, 9.35pm RTÉ One
Ella McSweeney looks at the story of the Irish thoroughbred horse and, with the help of top breeders, trainers, jockeys and scientists, asks what really makes a champion, and can you really predict a winner. Horse-racing is Ireland's most successful international sport and the Irish thoroughbred industry is worth a billion euro. The film looks into the science and human skills behind the Irish racing industry's ability to produce so many winners, and visits the world-famous Coolmore Stud and Ballydoyle training facility, The Irish National Stud, Goffs Bloodstock Sales House, Gilltown Stud and The Irish Equine Centre. Family man, John Farrell, 46, is a catering manager and army reservist. In his spare time he runs a boxing club in his hometown of Bootle. John is searching for his father in the hope that he will be proud of how he has turned out. A stallion gets his daily walk in the picture below.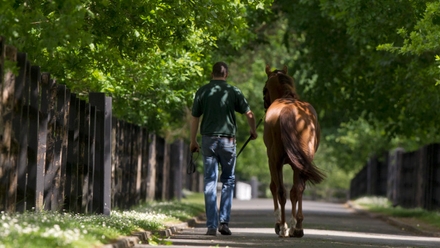 Long Lost Family, 9.00pm ITV
When John Farrell turned 13, he found out that the man he was raised to believe was his father wasn't actually his biological dad. His mother went on to ask him if he wanted to know about his birth father, but full of pain and confusion John decided he didn't want to know anything – a decision he now regrets. Since becoming a father himself to three daughters, John has realised the importance of fatherhood and has always aimed to better his situation and provide a fantastic life for his children. Twenty years ago John began his search for his father. In 2011, he served with the Territorial Army in Afghanistan. When he returned to the UK he received a hero's welcome, but John realised that there was only the one person he wanted to recognise his achievements – his dad.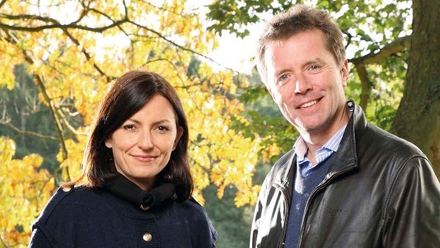 GAA 2014, 8.30pm TG4
Okay, maybe you have missed The Sunday Game Live and maybe you have also missed The Sunday Game on RTÉ Two, due to circumstances beyond your control (of the TV Remote mayhap). Fortunately, you can relive the essential highlights from Sunday's games right here, folks, in the space of a thrilling hour. The main matter of the day was the All Ireland Senior Football Championship semi-final between Kerry and Mayo. And the storied venue that hosted all the excitement is pictured below, Croke Park.