Dáithí O Sé is back with the conclusion of this year's Rose of Tralee (8.00pm, RTÉ One), no-nonsense chef Gordon Ramsay begins a new season of Ramsay's Hotel Hell (10.00pm, Channel 4), while the headaches continue for Ray Donovan (10.00pm, Sky Atlantic)
The Rose of Tralee, RTÉ One, 8.00pm
Right, now it's down to the business end of the Rose of Tralee as a packed Dome holds its collective breath as the winner of the 55th International event comes to a conclusion. Twinkling host Dáithí O Sé should be dried off after last night's ice bucket challenge dunking. He'll meet the remaining 32 Roses as they entertain the audience while aiming for the title picked up last year by Haley O'Sullivan, from Texas.
Ramsay's Hotel Hell, Channel 4, 10,00pm
Gordon Ramsay travels across the USA to fix struggling hotels, motels and bed & breakfasts. He starts the second run at Meson de Mesilla, a Tuscan-style hotel in New Mexico. Owner and former child-star Cali Szczawinski bought the hotel so that she could perform Cher songs every night to a captive audience. Gordon investigates whether Cali may be falling flat when it comes to the needs of her guests because she is too busy trying to hit the high notes on stage.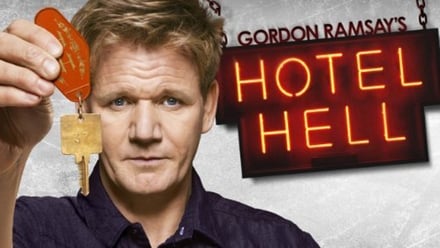 Gordon Ramsay
Ray Donovan, Sky Atlantic, 10.00pm
Life continues to get messier for the Donovan family as the LA-based crime drama progresses. Avi and Lena help Ray make contact with Volcheck to seek his help in taking down Cochran, while. Mickey looks forward to a big pay day when he meets with a movie executive. At home, teenager Bridget argues with Ray and Abby about the earring she received from rapper boyfriend Marvin. Life's not easy for a family man who's an enforcer for the rich and famous.