To celebrate the release of If I Stay (cert 12A) in cinemas August 29, RTÉ TEN has teamed up with Warner Bros. Pictures, New Line Cinema and Metro-Goldwyn-Mayer Pictures to offer readers the chance to win tickets to a Special Preview Screening.
The Special Preview Screening will take place on Tuesday August 26 at Cineworld, Parnell Street, Dublin 1.
Gayle Forman's best-selling novel comes to the screen in New Line Cinema's and Metro-Goldwyn-Mayer Pictures' drama If I Stay, starring Chloë Grace Moretz, Mireille Enos, Joshua Leonard, Jamie Blackley and Stacy Keach.
Mia Hall (Moretz) thought the hardest decision she would ever face would be whether to pursue her musical dreams at Juilliard or follow a different path to be with the love of her life, Adam (Blackley).
But what should have been a carefree family drive changes everything in an instant, and now her own life hangs in the balance. Caught between life and death for one revealing day, Mia has only one decision left, which will not only decide her future but her ultimate fate.
For the chance to win one of 20 pairs of tickets, just answer this question:
True or False? If I Stay is based on a novel written by popular young adult author Gayle Forman?
Send your answer, name, address and telephone number, marked If I Stay Comp, to tencompetitions@rte.ie. One entry per person. Closing date: Monday August 18. Prize is for tickets to preview screening on Tuesday August 26 at Cineworld, Parnell Street, Dublin 1 only. No other costs will be covered.
#ifistay www.ifistay.net www.facebook.com/ifistay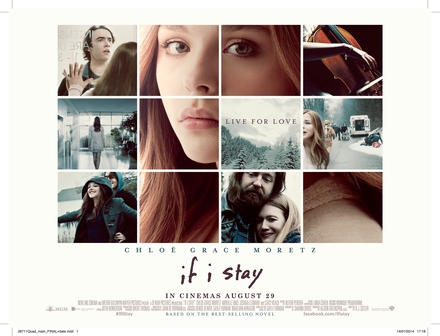 © 2014 Warner Bros. Ent. and Metro-Goldwyn-Mayer Pictures Inc. All Rights Reserved