Michaella, Peru and the Drugs Run tells the story of Michaella McCollum Connolly and follows her mother and sister on their journey to visit her in Lima. Guilty by Association looks at a controversial UK law, and The Armstrong Lie concerns Lance.
Michaella, Peru and the Drugs Run
9.35pm, RTÉ One
Tonight's documentary explores how a young Irish woman agreed to become a drug mule. In August last year, Michaella McCollum Connolly and a young Scottish woman, Melissa Reid, were arrested at Lima International Airport. After initially claiming they agreed to take the drugs under threat, in December they admitted their guilt and were sentenced to six years, eight months in jail. The documentary follows Michaella McCollum Connolly's mother Norah and sister Samantha on their first 6,000-mile trip to Peru to visit her. For several months, Michaella McCollum Connolly and Melissa Reid were held in the Virgin de Fatima Prison in Lima in a unit designed for 40 prisoners. Recently, they have been transferred to Ancon Prison, where conditions are much tougher.
Guilty by Association
11.35pm, BBC One
Alex has been charged with a murder committed by a friend in a spontaneous fight; Wayne has been convicted of possessing a firearm he never touched; Joseph is serving a life sentence for a murder he didn't even see. All of them have been convicted using the Law of Joint Enterprise, under which a person in a group or gang can be held responsible for the criminal acts of others. It has been used to secure convictions for two of the killers of Stephen Lawrence and the three murderers of Ben Kinsella. This documentary follows the story of Alex's family after his arrest and during his trial for murder and also examines the cases of Wayne and Joseph. Deborah and George Kinsella (pictured) believe that without Joint Enterprise their son's killers would have walked free.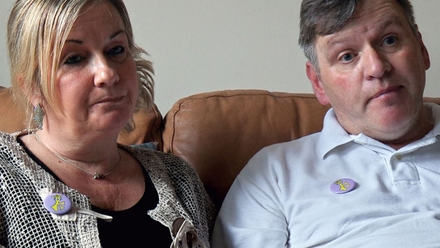 The Armstrong Lie
9.00pm, Channel 4
In 2009 Alex Gibney was hired to make a film about Lance Armstrong's comeback to cycling. The project was shelved when the doping scandal erupted, and re-opened after Armstrong's confession. This film picks up in 2013 and presents a riveting, insider's view of the unravelling of one of the most extraordinary stories in the history of sport. As Lance Armstrong himself says: "I didn't live a lot of lies, but I lived one big one."