Channel 4's The World's Best Diet goes in search of varied food experiences, FIFA 2014 continues on RTÉ Two and The Summit airs again on RTÉ One.
The World's Best Diet
9.00pm Channel 4
Jimmy Doherty and Kate Quilton explore some of the world's most varied diets.They travel around the globe, examining the dietary habits of countries, tribal people and communities, revealing how eating habits across the planet have changed radically over the last 50 years, and how this has affected our health.
Leading dietary experts help Jimmy and Kate rank 50 of the world's diets, from the worst to the best. On their journey, Jimmy and Kate explore the differences in our eating habits and the surprising similarities between countries thousands of miles apart. What can their discoveries reveal about what we should be eating and how we can improve our health and quality of life?
FIFA World Cup 2014
4.30pm RTÉ Two
Darragh Maloney is joined by Kenny Cunningham and Ronnie Whelan for live coverage from Estadio Nacional Brasilia of the meeting of the winners of Group E and the runners-up of Group F. Commentary from Stephen Alkin and Brian Kerr, kick-off 5.00pm with possible extra time and penalties.
At 8.30pm, also on RTÉ Two, Bill O'Herlihy is joined by Brad Friedel, Didi Hamann and Liam Brady for live coverage from Estadio Beira-Rio, Porto Alegre for the meeting of the winners of Group G and the Group H runners-up. Commentary from Peter Collins and Trevor Steven, kick-off, 9.00pm. Picture shows the stadium at Brasilia.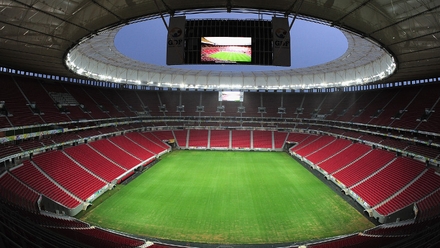 The Summit
9.35 RTÉ One
The catastrophic events recalled and dramatically recreated in The Summit with such ice-cold clarity occurred on August 1, 2008. That summer, more than 70 climbers from 15 expeditions attempted K2 in the Himalayas, the second highest peak on Earth at 8,611km. Eleven climbers, including Limerick man, Ger McDonnell, lost their lives. One out of every four people who reach the summit has died on the way down - one wrong step and you are history, as one climber puts it. After others had descended, Ger McDonnell stayed to help two or three injured Koreans. A precarious, overhang of ice, known as a serac, which was over 100m high, collapsed on the Limerick-man and the South Koreans, causing their tragic deaths.