Football, a farewell and a film are our selections for tonight.
MOTD Live: World Cup Preview
10:35pm, BBC One
The football equivalent of Christmas Eve is upon us, and the Beeb's wise men - Gary Lineker, Alan Shearer, Rio Ferdinand - look forward to the next month of Sporting Telly Heaven. Right now, England doesn't expect too much, but all that could change by the early hours of Sunday morning with a good result against Italy in Manaus. This programme should serve as both a fix for die-hards and a bluffer's guide, and it'll be interesting to see how accurate the predictions and prognostications were come July.
Law & Order: UK
9:00pm, ITV
It's the end of an era as ITV puts this Bradley Walsh-starring procedural in mothballs for the foreseeable future. The season eight finale sees Ronnie (Walsh) and Joe (Ben Bailey Smith) trying to get a handle on their new boss, DI Elisabeth Flynn (Sharon Small). And with knife crime her crusade, her first case turns out to be a stabbing. But along with the need to crack the case and make a good first impression, Ronnie's honesty is called into question. Walsh has said that leaving the ITV drama was "one of the hardest decisions I have ever had to make", and he hopes "one day to revisit" his character. Until then...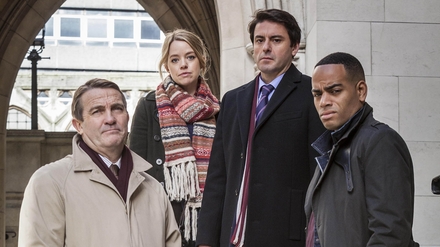 Watchmen
10:55pm, Film Four
300 director Zack Snyder's 2009 take on the genre-revolutionising, rite-of-passage comic classic is a mixed bag, but it will make you want to read - or re-read - the source material. Beginning with the murder of costumed 'hero' The Comedian (a great opening sequence), Watchmen follows the efforts of his former colleagues to find out who was behind his demise. It looks and sounds stunning, the effects are superb and Snyder has put a good shape on a very complex story. But if you're expecting the emotional wallop and tension of, say, The Dark Knight you may well be disappointed.