The Beeb marks the 70th anniversary of the D-Day landings (BBC One from 9.15am); Nicole Kidman is on the sofa on The Graham Norton Show, BBC One, 10.35pm; and prepare for a real head trip - Inception is on RTÉ Two at 9.00pm
D-Day 70: The Heroes Return, BBC One, from 9.15am
Short of re-staging the whole bloody ballyhoo, the BBC really are the best in the world at this sort of commemorative programming. Today they dedicate a full nine hours of their schedule to mark the 70th anniversary of the D-Day landings of June 6, 1944 - arguably the most decisive invasion in history. Many British soldiers will relive and talk about their experiences but many, many Irishmen also fought on the five beaches in Normandy and battled their way onto Paris. It was, to rephrase Churchill, the beginning of the end for Nazi Germany. Trusted Voice of The British Nation, Huw Edwards will be stationed in Arromanches with a panoramic views of those beaches and he talks to veterans, historians and heads of state from 9.15am to 6.30pm.
The Graham Norton Show, BBC One, 10.35pm
Will Graham tackle Nicole Kidman about the extraordinarily awful reviews for her turn in new movie, Grace of Monaco? Gentle ribbing and chortling is more likely. Other than that, the star wattage tonight is not at its usual blinding glare - Mark Ruffalo flogs his new move, Begin Again, in which he helps Keira Knightley change her life with her music. Well, not KK herself but the woman she plays in the flick. Michael Sheen, the man with more faces than Tony Blair, talks about Soccer Aid, and nice guy warbler Ed Sheeran warbles his - pretty good - new song Sing.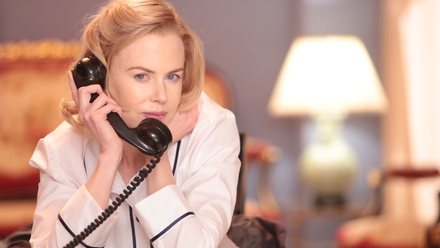 Who you kidding man? Nicole in Grace of Monaco
Inception, RTÉ Two, 9.00pm
At two-and-a-half hours long and with a huge cast including Michael Caine, Leonardo DiCaprio, Tom Hardy, Cillian Murphy, Joseph Gordon-Levitt, Marion Cotillard, Pete Postlethwaite, and Ellen Page, this is Christopher's Nolan's most vast undertaking to date. With a tagline of "Your mind is the scene of the crime", Nolan's movie is a multi-layered and subversive thriller in which people actually enter other people's subconscious and their dreams. The special effects are astonishing, and the action sequences are equally gripping - the ski-borne shoot out has more than a touch of Moore era Bond about it. The point of departure here is that your mind can take you anywhere. Some movies put you to sleep; this one will keep you awake for days afterwards as you try to figure out what the hell you just watched.
Alan Corr