Quirke - already shown on RTÉ One on Sunday nights during the winter - comes to BBC One. Derry take on Donegal in the Ulster Senior Football Championship, while Ireland face Turkey in an International Soccer Friendly - both on RTÉ Two.
Quirke: Christine Falls
9.00pm, BBC One
Late autumn, Dublin 1956, and city pathologist Quirke stumbles in one night from a party in the nurses' quarters, with a view to sleeping off his hangover in his pathology lab. He finds obstetric consultant Malachy Griffin, his adoptive brother, at his desk completing some paperwork for a recently deceased patient named Christine Falls... Quirke is played by Gabriel Byrne; Judge Garret Griffin by Michael Gambon; Malachy Griffin by Nick Dunning; Sarah by Geraldine Somerville; Rose by Sara Stewart; Inspector Hackett by Stanley Townsend; Sinclair by Brian Gleeson and Phoebe by Aisling Franciosi. These coolly hesitant adaptations of the Benjamin Black (John Banville) novels were filmed in Dublin.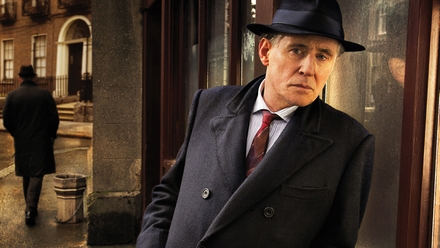 The Sunday Game Live
1.30pm, RTÉ Two
Michael Lyster is joined by Michael Duignan and Martin Carney for a live double bill. First Derry take on Donegal in the Ulster Senior Football Championship in Celtic Park, Derry (throw-in, 2.00pm), followed by Cork v Waterford in the Munster Senior Hurling Championship Quarter Final from Thurles (throw-in 4.00pm). Later, on The Sunday Game (9.30pm, RTÉ Two), Des Cahill is joined by Donal Óg Cusack, Brendan Cummins, Tomas Ó Sé and Kevin McStay for highlights and analysis of Derry v Donegal, Cork v Waterford, London v Galway and Laois v Antrim.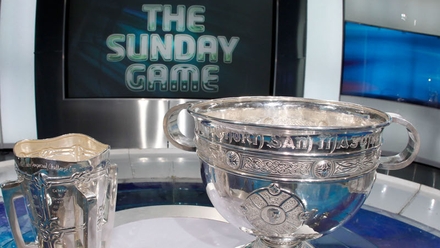 International Soccer Friendly: Ireland v Turkey
8.25pm, RTÉ Two
Darragh Maloney (pictured) is joined by Kenny Cunningham and Richie Sadlier for highlights of the Republic of Ireland's friendly with Turkey at the Aviva Stadium (kick-off 6.00pm). Commentary from Stephen Alkin and Ronnie Whelan.