Drew Barrymore has spoken about her joy at the arrival last month of her second daughter, Frankie.
Barrymore was speaking to RTÉ TEN in Berlin where she is promoting her latest romantic-comedy film, Blended, with Adam Sandler from their Wedding Singers director Frank Coraci.
The actress spoke about life since the arrival of her second daughter with husband Will Kopelman, who joins 20-month-old daughter Olive in their family.
She said: "Everything's good. She's healthy and that's all I care about in life. And they're so cute together Olive and Frankie, it's so good. I got a picture of them this morning."
Her Blended co-star Adam Sandler said: "Olive is petting Frankie's head already", to which Barrymore added: "And kisses her knee. She just loves her sister.
"I expect them to fight throughout their lives but I will be happy with every moment that they're in love."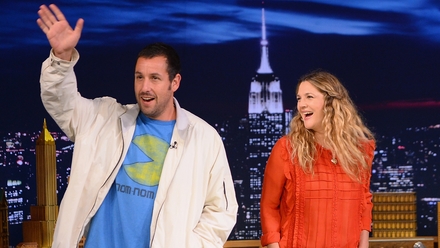 Sandler is also parents to two daughters with his wife Jacqueline, 8-year-old Sadie and 5-year-old Sunny.
He spoke about how his kids felt seeing him on the big screen, saying: "They're proud. They saw this movie and in the movie my wife is passed away and they didn't like that.
My little kids, they cry at that stuff, they really got involved in this movie. Once I tell them that it's just a movie and to relax they can sit back and enjoy and laugh."
Blended is out in cinemas on Friday, May 23.