Mila Kunis has officially confirmed her pregnancy for the first time saying she managed to hide it 'for a very long time'.
The actress, who is engaged to Ashton Kutcher, spoke openly about her pregnancy and engagement with Ellen Degeneres, though she wouldn't reveal a due date or the baby's gender.
Kunis said, "I managed to hide it for a very long time. [The baby is due] sometime this year."
The Jupiter Ascending star also detailed some of her strange cravings saying Kutcher was prepared for every eventuality, "He assumed that I was going to have goofy cravings, so he stocked our secondary fridge with weird food. Just like pickles and sauerkraut, or like anchovies and ice creams.
"Just in case at one point during this pregnancy I'd be like, I really want something. And it happened last week, I was like, 'Oh my God I need a pickle'. Like, it was just the weirdest thing, I needed a pickle and he was like, 'Hold on a second' and disappeared in the backyard and came back with the most amazing dill pickle of all time."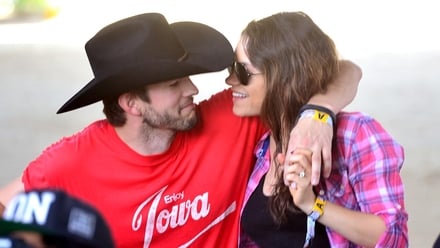 On her engagement to the Two and a Half Men star she commented, "We were able to keep this private for two months. Everybody assumed we'd be engaged for so long that I was wearing the ring in public, for two months and nobody commented on a single photograph for two months. It was amazing."