Ricky Gervais returns as the eponymous helper at a nursing home in Derek (10.00pm, Channel 4); it's last orders for this season on RTÉ One's Neven Maguire: Home Chef (7.30pm); and there's the concluding part of Jamaica Inn on BBC One at 9.00pm.
Derek
10.00pm, Channel 4
Ricky Gervais is back for a second run of his surprisingly touching and hard-hitting sitcom about Derek, played by Gervais, a helper at a nursing home. A year after the events of the first season, all the old Broadhill faces are back, alongside some new ones. Derek's happy that his dad's moving in, while Tom and Hannah are taking things to another level. Geoff, a volunteer, has joined the clan, but Dougie and Vicky have no time for him.
Neven Maguire: Home Chef
7.30pm, RTÉ One
Cleaver East is Dublin chef Oliver Dunne's latest restaurant, which opened in the Clarence Hotel last August. In 2008, Oliver was the youngest chef in Ireland to win a Michelin star. Here he shows Neven how to make Braised Belly of Pork, one of the most popular items on his menu. Neven's own recipes feature the Ultimate Beef Burger with Crispy Potato Wedges, and a delicious dessert of Toasted Coconut and Malibu Parfait with Pineapple Carpaccio and Lime Meringue.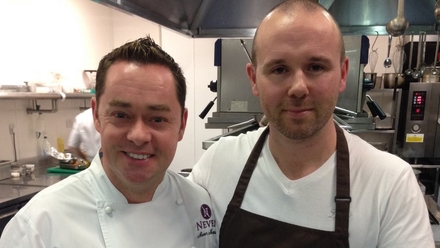 Jamaica Inn
9.00pm, BBC One
It's the final part of this adaptation of the gothic novel by Daphne du Maurier. As the net tightens on Joss and his smuggling gang, Jem is taken into custody and Mary struggles to know who to trust. Determined to save himself and his brother, Jem makes it his mission to find out the identity of the man who gives Joss his orders. But his plea to Joss to give up the leader fails and Joss unwittingly squanders a lifeline.