Irish actor Chris O'Dowd has received rave reviews for his performance as Lennie in the new Broadway version of John Steinbeck's Of Mice and Men.
O'Dowd stars opposite James Franco as George in the tale of two drifters in Depression-era California in a cast which also boasts Irish Tony winner Jim Norton (The Seafarer).
The Hollywood Reporters says O'Dowd is "tremendous in a part that could easily stray into mawkish territory" adding "it's a lovely performance – sweet, funny and ultimately heartbreaking."
While Entertainment Weekly said "The real surprise in Anna D. Shapiro's finely staged production is Chris O'Dowd (Bridesmaids) as George's mentally challenged travel companion, Lenny.
"The gifted comedic actor brings a studied and skillful physicality to Lenny" adding "O'Dowd's riveting performance is a study in underdeveloped impulse control."
Meanwhile Variety commented "O'Dowd has mastered a small but refined repertoire of facial expressions and gestures (one hand movement has the delicacy of an artist) that is quite astonishing.Going beyond that physical expressiveness, the depth and understanding he brings to the role render Lennie, quite simply, heartbreaking."
Of Norton the Hollywood Reporter said "the most invaluable support comes from Jim Norton's shattering Candy, the doddery farmhand disabled in an accident, who all too clearly sees his own future going the way of his toothless old mutt, Watching Candy's face dissolve from grief into radiant hope as he buys into George and Lennie's dream scheme is among the play's most affecting moments."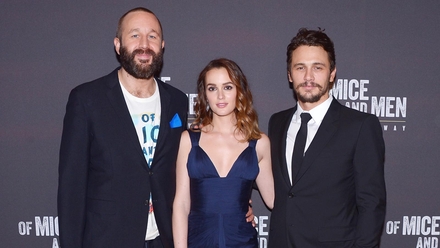 O'Dowd and Franco with co-star Leighton Meester