It's the final heat on MasterChef Ireland (8.30pm, RTÉ One), Woody Allen's Midnight in Paris (9.35pm, RTÉ One) is a must-see, while Channel 4 has a new, self-explanatory show called Dead Famous DNA (9.00pm).
MasterChef Ireland, 8.30pm, RTÉ One
It's the last heat and tonight's dishes range from plain home favourites to 'molecular gastronomy', whatever that is. To compliment his pan fried sea bass with chorizo mash, Scotsman Nick is making a beurre blanc bonbon. Ulsterman Brian is relying on flavours sourced closer to home with his pan fried quail, creamed leeks and potato rosti. Dubliner Sonya hopes to make a splash with her Surf and Turf with triple cooked chips. Not a batter burger in sight.
Midnight in Paris, 10.15pm, RTÉ One
On a rare Wednesday that's bereft of Champions League football, here's a chance for couples to enjoy something together: Woody Allen's best film in decades, and an absolute treat from start to finish. Owen Wilson stars as Gil Pender, a screenwriter forced to confront the shortcomings of his relationship with his more materialistic fiancée (Rachel McAdams) thanks to some time-travelling exploits by the Seine that sees him sipping cocktails with F Scott Fitzgerald, Gertrude Stein, Ernest Hemingway and others. Great fun.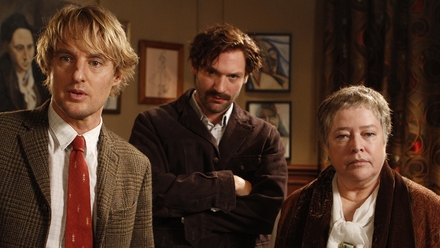 Dead Famous DNA, 9.00pm, Channel 4
Acclaimed veterinary scientist (huh?) and presenter Mark Evans wants to find out what - if anything - the biology of some of history's most important and infamous figures can add to their well-known biographies. A lot of negative press ahead of this as Channel 4 was criticised for paying Holocaust denier David Irving €3,500 for a lock of Adolf Hitler's hair. Don't know who they'll start with in this series, but Marilyn Monroe and Napoleon have both been mentioned.