A profile of late, great RTÉ broadcaster Colm Murray; all the fun of the St Patrick's Day Festival; and in Moone Boy, Martin has an interesting encounter with the travelling community.
Cloch Le Carn, RTÉ One, 7.30pm
Colm Murray is the subject of tonight's show as we look back over a remarkable career spanning 35 years. Creating television history in 1989 by becoming one of the first ever sportscasters on RTÉ news, Colm went on to became the authoritative voice of horse racing in Ireland. In 2010 Colm was diagnosed with Motor Neurone Disease, a fortnight after working at that years Cheltenham. The programme brings us a treasure of classic Colm Murray reports peppered with the colour, excitement, madness and high emotions of Italia 90, one of his career highlights. We re-live those unforgettable scenes from the Stadio Olimpico after Schillaci truly burst the Irish dream.
St Patrick's Festival Parade and Highlights, RTÉ One, 12.20pm
Join presenters Blathnaid Ni Chofaigh, Aidan Power and Des Cahill on the streets of Dublin, as the St Patrick's Day parade rolls through the heart of the city, while Simon Delaney presents the highlights of the St. Patrick's Festival. Ireland's leading pageant companies will bring their vibrant interpretations of "Let's Make History", the theme for the 2014 Festival Parade, to life with their spectacular pageantry and colourful performances. The uplifting musical score for the Parade will be provided by musical ensembles from the USA, Germany, Estonia and Ireland. The spectacular procession will wind its way through the heart of Dublin city, bursting with colour and theatrics. Watch out for one of Ireland's most notable High Kings, Brian Boru, as Dublin celebrates the millennium anniversary of a great and seminal historic battle, the Battle of Clontarf 1014. Highlights tonight at 8.30pm. Watch the Dublin St Patrick's Day Parade on the RTÉ Player.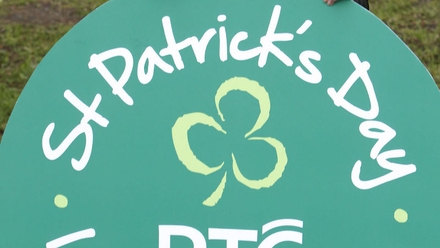 Catch all the fun of the Parade
Moone Boy, Sky1, 9.00pm
Fidelma and Dessie's big day is just a week away and the Moone household is gripped by wedding fever. Until, that is, it's overshadowed by travellers moving into the field next door. Liam and Debra are definitely, totally fine about their new neighbours, they're not worried at all, but they might move some things from the garden into the house – just so they don't rust, you understand. Martin is intrigued by the travellers, particularly new classmate Majella (Jessica Barrett). As the two become a little bit more than friends, Martin reaches an important rite of passage in any young man's life. Meanwhile, when Dessie asks Father Linehan to be his best man, the priest organises a stag do complete with mass and Bible drinking games that soon get out of hand.