The return of Masterchef Ireland; Dara O Briain is back with some hard sums; and more mystery in Death in Paradise.
MasterChef Ireland, RTÉ One, 8.30pm
Masterchef returns with double helpings with a shows on Tuesdays and Wednesdays. Nick Munier and Dylan McGrath return as the culunary double act and over the course of the first four weeks, Ireland's best 24 amateur cooks will enter the MasterChef Ireland kitchen. Tonight we meet our first six cooks - Charlie, Niamh, Claudio, Gary, Emma and Rich. The ingredients in the kitchen on the first day range from seafood, lamb, rabbit and steak in the kitchen today.
Dara O Briain: School of Hard Sums, Dave, 10.00pm
Dara is back and pits brain against brawn to see which will triumph in the battle of everyday dilemmas. The third series has been extended to hour-long editions and there are two new segments. Dara surprises guest comedians with previously undiscovered links between their personal lives and maths. And in Dear School of Hard Sums fans, including Janet Street-Porter and Myleene Klass, ask the team to solve an everyday conundrum close to their heart.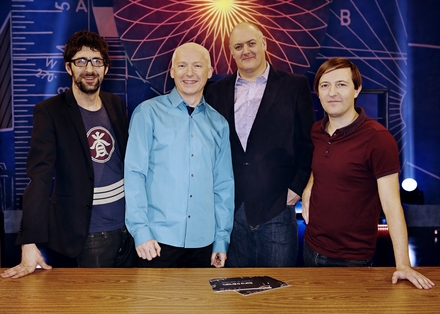 Dara with Mark Watson, Marcus Du Sautoy and Andrew Maxwell
Death in Paradise, BBC One, 9.00pm
In the final episode of the series, DI Goodman and the team are called in to investigate the suicide of retired surgeon, Emma Redding. An empty packet of sleeping pills have been found beside her and the room has been locked and bolted from the inside - it's an open and shut case. Or is it?