Having stolen the show when she tripped while on her way to accept Best Actress at the Academy Awards in 2013, Jennifer Lawrence took a red carpet tumble at this year's Oscars on Sunday.
Emerging from a limousine, Lawrence, in a strapless orange gown, tripped and was helped to her feet by boyfriend Nicholas Hoult.
She joked to CNN: "I tripped on a [traffic] cone. Shouldn't have those laying around! I'm the same colour as a cone - you can't do that!"
Watch the Oscars on RTÉ Two tonight, Monday March 3, from 9:00pm.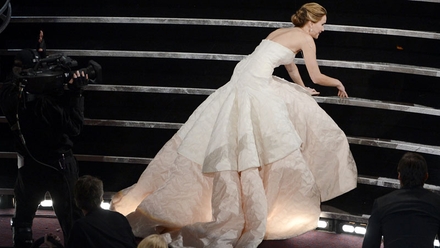 Jennifer Lawrence tripping at last year's Oscars ceremony