Quirke hangs up his hat for now; highlights of The Choice Music Prize; and The Voice of Ireland reaches round three of the Battles stage.
Quirke, RTÉ One, 9.30pm
We bid a fond farewell, for now anyway, to the dark Dublin of the fifties in an episode called Elegy For April. A year has passed since the end of Silver Swan. Quirke is fighting a battle with grief and drink – and losing heavily – while Phoebe is forging a new life for herself with the help of a group of oddly assorted friends: Isabel Galloway, shining light of the Gate Theatre; reporter Jimmy Minor whose crush on Phoebe goes entirely unnoticed by her; and junior doctors April Latimer and the exotic Patrick Ojukwu, a Nigerian prince who has discovered that 50s Ireland is an uncomfortable place to be a stranger. As the story opens Phoebe is worried that April hasn't been heard from in over a week . . .
Meteor Choice Music Prize, RTÉ Two, 10.25pm
In case you've had your head buried under the duvet for the past two days, we won't name the winner of this year's Choice Music Prize. Here are highlights of last Thursday's performances and ceremony. Eoghan McDermott and Niamh Farrell of Indie band Ham Sandwich are on the mic and Girls Names, Little Green Cars, Mano Le Tough, O Emperor, Lisa O' Neill, Villagers and Bell X1 perform live.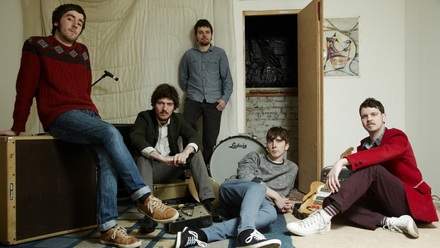 Choice nominees O Emperor perform
The Voice of Ireland, RTÉ One, 6.30pm
It's week three of the Battles as our coaches pit their acts against each other. They must then decide which of the two they will take through to the Live Shows. But they won't have to make that decision on their own. Helping Dolores make her decision will be Hothouse Flower Fiachna Ó Braonáin, in Bressie's corner is Sarah Harding, Jamelia has asked friend Courtney from girl band Stooshie to help her decide and Kian has asked X Factor winner Matt Cardle to join him for the Battles.