Acclaimed drama True Detective continues on Sky Atlantic (9.00pm), Sarah Millican and Diversity are guests on Ant and Dec's Saturday Night Takeaway (7.00pm, UTV/TV3), while things are getting tough for Raylan on Justified (11.25pm, TG4).
True Detective, 9.00pm, Sky Atlantic
The plot thickens in this much-hyped moody crime drama starring Matthew McConaughey and Woody Harrelson, as the darker sides of their state investigators begin to be exposed. Rust Cohle's troubled past has him on the edge sanity, while his ex-partner Marty is wrestling his own problems. His cosy family life isn't as perfect as it seems, and he's feeling the pressure from above for results. As for the case, a lead takes the pair to a hillbilly brothel.
Ant and Dec's Saturday Night Takeaway, 7.00pm, UTV/TV3
Slick and addictive Saturday teatime telly doesn't come better than this. Ant and Dec have comedienne Sarah Millican lending her distinctive tones as this week's Guest Announcer while dance troupe Diversity will be taking part in the End of Show Show. In between, one lucky member of the studio audience will also be given the chance to play for the contents of a commercial break in Win the Ads, with spectacular prizes including cars and holidays on offer. Enjoy!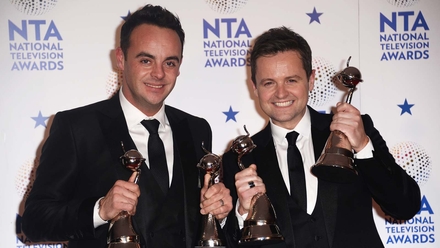 Justified, 11.25pm, TG4
You can binge on this great show from the start on Netflix or dip in here – but either way, Justified is unmissable TV. As season two progresses, Raylan and Winona struggle to keep the evidence theft from being exposed. Meanwhile, he is assigned to protect coal company VP Carol Johnson as she tries to buy up land in Harlan County. But when they run up against the Bennett family's plans to stop her, Raylan has to put his own life on the line.