Richard E Grant is already having a busy 2014. In addition to joining Downton Abbey in the show's fifth season, the actor has launched a new perfume.

The 56-year-old actor has said: "I've obsessively smelt everything all my life."

He praises one particular designer for encouraging him to make his new scent: "Anya Hindmarch, the handbag designer, saw me with my head in a gardenia bush in the Caribbean two years ago, and she said, 'Are you going to do something about that?'

"And I said, 'What psychiatrically?' and she said, 'No, make a perfume'. So I have done."

Speaking about his new unisex scent, Jack, he added: "It's self-financed, self-made, everything, it's been my passion for two years, it's a big gamble.

"There are 1,100 perfumes released every year, so it's like an old guy releasing a record and hoping people are going to buy it. But it's really good."

The Withnail And I star will star as Downton guest Simon Bricker in the new season, which is currently being filmed.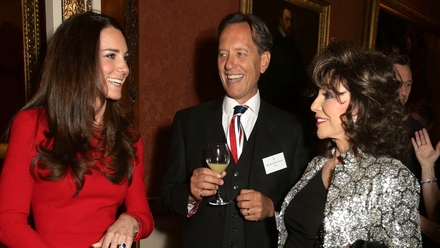 Catherine, Duchess of Cambridge with Richard E. Grant and Joan Collins at a Reception for the Dramatic Arts last week at Buckingham Palace