Slick legal drama Silk returns (9.00pm, BBC One), while Modern Family (8.30pm) and Moone Boy (9.00pm) continue on Sky 1.
Silk, 9.00pm, BBC One
Back for a third season of the Beeb's slick legal drama and feelings run high when a murder trial close to home sends shockwaves through Shoe Lane Chambers. Clive (Rupert Penry-Jones) has finally become a Silk but his celebration party is dramatically cut short when news of the arrest of the son of the Head of Chambers for killing a police officer reaches the celebrations. Martha (Maxine Peake) must step in to defend the young man despite the overwhelming evidence.
Modern Family, 8.30pm, Sky 1
Alarm bells ring when baby Joe is banned from Gymboree for being too aggressive, leading Gloria to fear that he's inherited a family curse. Meanwhile Phil taps into a rich new vein of clients: recently divorced women. Wedding plans are also in full swing, with Cam leaning and towards a subtle, understated affair. He can't do things by halves, and even a little white lie he tells Lily to explain why her cat Larry has gone missing spirals out of control.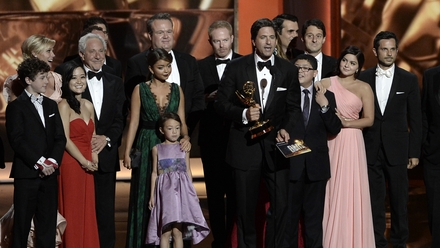 Moone Boy, 9.00pm, Sky 1
Martin Moone's facing his first day of secondary school, an exciting time as he ventures into a more grown-up world. And while would-be ladies' man Padraic is thrilled to be surrounded by girls, Martin is less than impressed, what with their chat about Patrick Swayze, periods and scrunchies. He soon changes his tune, though, when he meets his new art teacher Miss Tivnan (Amy Huberman), a vision at the blackboard who instantly sparks a romantic rivalry between Martin and Sean.