Pioneers and Aviators, A Century of Irish Aviation is a brand new series on RTÉ One looking back at our dramatic and at times glamorous aviation history. Another great new doc on TG4 Éagóir and a great episode of Don't Tell the Bride.

Pioneers and Aviators, A Century of Irish Aviation, 10.15pm, RTÉ One
It may not be the first thing that pops into your mind when you think of Ireland but nonetheless our aviation history is quite remarkable. This two-part documentary tells the story of the magnificent men, and women, in their flying machines who put Ireland on the aviation map. Tonight's episode begins at the beginning when British pilots John Alcock and Arthur Whitten Brown made the first non-stop transatlantic flight into Ireland in June 1919 and landed in a bog in Clifton, Co Galway. It was our turn to impress in the more challenging return trip to America when the debonair Irish Pilot Commandant James Fitzmaurice, made his mark in aviation history. As a gateway between Europe and America, Ireland played an important role and the documentary explores this and the glamorous early days when flying boats brought a steady stream of famous faces to our shores. We see how De Valera vowed only to fly if Colonel Charles Lindbergh was flying and evntually in 1936 he lived up to his word. We will also see the birth of Aer Lingus, the arrival of Dublin airport and Shannon, home to the world's first Duty-Free shop. The long-list of contributors also discuss the importance of Tony Ryan in the industry and the introduction of Ryanair which has exploded in recent years. Drama, glamour, fame and fortune – it has it all.
Don't Tell the Bride, 10pm, RTÉ Two
This picture really does speak a thousand words as groom-to-be Jackeen Aidan Corrigan, 28, analyses his plan of attack for his big day to Galwegian fiancée Tammie Bane, 27. She wants romance and a relaxed country wedding but he's thinking Rock 'n'Roll. He's thinking big bash for minimum money but she's thinking elegant extravaganza. However he should thank his lucky stars that she has agreed to marry him, given the fact that it was love at first sight for him and he had to woo Tammie for quite some time before she would agree to their first date! That was five years ago when the couple met in a college class room and Aidan wasn't the other guy to notice the gorgeous Tammie. After numerous proposals, it was a milk carton wedding ring that sealed the deal. Together with their two little girls and all their supportive family and friends, he hopes to create a day that will be unforgettable for all the right reasons.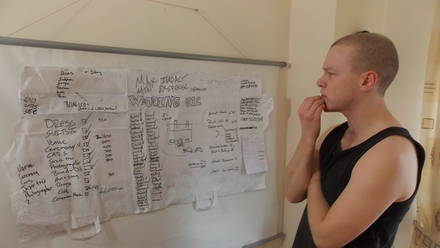 Éagóir, 10pm, TG4
Fascinating new documentary series, Éagóir, sees journalist Michelle Nic Phaidin examine six cases where people were wrongly accused of various crimes before wrongs were put right. She analyses the events that led to their condemnation and the victims, and their families' long struggle for freedom and to clear their names. The documentary looks at the effect that this had on the individuals and their loved ones, as they lost years, often in their prime, in prison before they won their cases and were released. Nic Phaidin begins with Gerry and his father Giuseppe Conlon, who were wrongly imprisoned for 15 years when they were convicted after the Guilford pub bombings. Tonight's documentary features an emotional interview with Gerry as he recounts the events and the injustice leading up to the death of his father.