Ireland take on Wales in the Six Nations on RTÉ Two; another new continental crime drama on BBC Four; and a profile of Britpop heroes Blur on Sky Arts1.
Six Nations Rugby Union: Ireland v Wales, RTÉ Two, 1.30pm
Tom McGurk is joined by George Hook, Conor O'Shea and Shane Horgan with Brent Pope at pitchside for live coverage of Ireland v Wales form the Aviva Stadium. Commentary comes from Ryle Nugent and Donal Lenihan and kick-off is at 2.30pm. The Ireland game is followed by Scotland v England live from Murrayfield with commentary from George Hamilton and Ralph Keyes with kick-off at 5.00pm. Available in High Definition on RTÉ Two HD.
Salamander, BBC Four, 9.00pm
More continental crime in this new, 12-part Flemish political thriller with the intriguing tagline "everyone has secrets. But these can bring down a nation." In the first of tonight's opening double-bill, a group of robbers disguised as builders descend on a top Belgian private bank - but these men in black have no eye for money or other valuables and target only 66 of 800 vaults in the bank. These 66 vaults belong to the country's industrial, financial, judicial and political elite, and the safe-deposit boxes contain their most intimate secrets - secrets that could bring down the nation.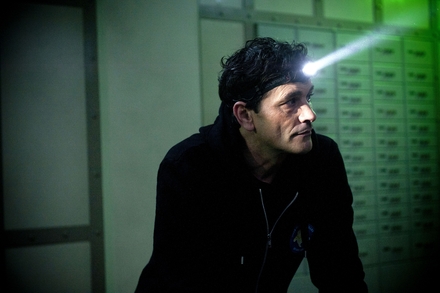 More shadowy continental drama in Salamander
Discovering: Blur, Sky Arts1, 8.30pm
Who woulda thunk it from their baggy-meets-shoegazing beginnings, but nearly 25 years after their spawning, Blur have become one of Britain's most enduring pop acts (they're adored in Ireland too). This doco charts their early days from 1980s grassroots at London's Goldsmiths College, all the way through to their 1994 number one album Parklife. Music critics Michael Bonner of Uncut and John Aizlewood of The London Evening Standard explore how EMI 'indie' subsidiary Food Records helped band members Damon Albarn, Graham Coxon, Alex James and Dave Rowntree find fame with their distinctly English Britpop sound and score a string of hits including There's No Other Way, Popscene (a lesser hit but still a hit), Girls & Boys and Song 2.