Neven Maguire Home Chef (7.30pm, RTÉ One) cooks pork fillet and there's wild venison on the menu too from a chef in Co Laois. Extreme Beauty Queens: Secrets of South America (9.00pm, BBC 3) reveals women undergoing disturbing cosmetic surgery with the aim of winning. It's all about winning too over on BBC Two at 7.00pm, as the final of The Great Interior Design Challenge takes place.
Neven Maguire: Home Chef, 7.30pm RTÉ One
Neven cooks pork fillet and Ryan Murphy, head chef at Ballyfin, Co Laois prepares wild venison in tonight's programme, wth vegetables from Ballyfin's walled garden. Before coming to Ballyfin, American chef Ryan Murphy worked as a sous chef at the Trump Tower, New York and then as chef de cuisine at the Savoy Hotel, London. Neven's own main course recipe this week is a delicious stuffed marinated pork fillet with basil and pine nuts, with noodle and vegetable stir fry. There's a delicious dish of individual sticky toffee puddings with butterscotch sauce and spun sugar. Neven and his guest chef are pictured below.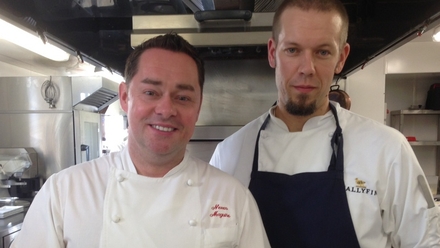 The Great Interior Design Challenge, 7.00pm BBC Two
It's the final of The Great Interior Design Challenge, and after starting with 24 amateur interior designers, it's down to the last two. Each finalist is given a grand Georgian house where they must re-design the hallway, front room, guest room and child's bedroom. Architectural Historian Tom Dyckhoff guides us around the history of the beautiful Liverpool homes in question. Daniel Hopwood and Sophie Robinson find the one amateur designer who they deem good enough to win.
Extreme Beauty Queens: Secrets of South America, 9.00pm BBC 3
In the first of three programmes, Billie JD Porter visits the Miss Venezuela beauty contest, where young women sign up to an extreme regime to transform themselves into international beauty queens. Billie meets 20-year-old farm girl Laura, who has given up university so that she can focus on the beauty contest. Laura seems remarkably prescient given her observation on women and cosmetic surgery. "They want perfection but it doesn't exist," she says. The programme also follows 18-year-old Meyer whose brother and cousin were both shot dead in the barrio where she lives. Her family work seven days a week to earn enough money to pay for her breast implants, nose job, and her teeth corrected. She has had a mesh fitted to her tongue which makes it too painful to eat solids, and therefore easier for her to lose weight.