RTÉ presenter Marty Whelan has revealed that he underwent two hair transplants because he works "in a business where appearance matters."
Speaking to the current edition of the RTÉ Guide, The Winning Streak presenter and host of RTÉ lyric fm's Marty in The Morning said, "If I wanted to look younger I could have got rid of my moustache. That would have made me look younger, but I like the moustache. It is a trademark now."
57-year-old Marty revealed that he had what he jokingly calls his first "plantation" in December 2012 and the second last summer in a procedure in which some his old hair was transplanted from the back of his head to the less hirsute front.
He says that he could yet "play lead guitar with Led Zeppelin", adding that he watched The Life of Pi on his iPad during the procedure.
Whelan, who has been married to wife Maria since 1985 and who is the father of Jessica (23) and Thomas (20), told the Guide, "I'm in a business where your appearance matters and if you don't look right on TV that is hardly conducive to a long future."
In the interview with the RTÉ Guide, Marty also talks about the death of his much-loved mother Lily at the age of 95 last October. His father, Seán, passed away in 1998 and Marty, who has no siblings, says that for the first time in his life he now feels like an only child.
"People would sometimes ask me: 'Were you lonely when you were young?' But I wasn't. I had loads of friends and all that. But this is the first time that I really realise what it means to be an only child."
You can read the full interview with Marty in the current edition of the RTÉ Guide which is out now.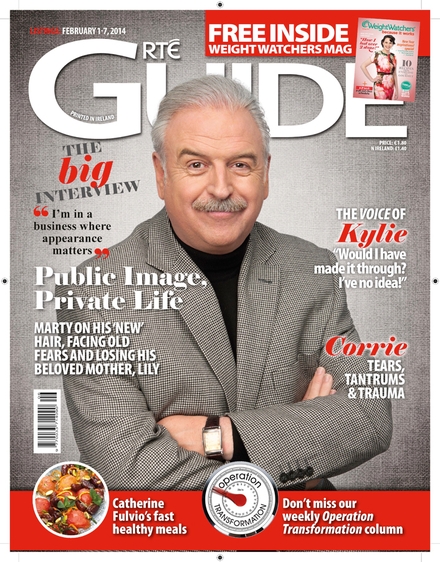 Marty on the cover of the new RTÉ Guide