Michelle Keegan, who plays Tina on Coronation Street, has said she's not sure if she likes her character's personality anymore.
The actress told The Sun, "She has always known what is right and what's wrong and that's why I have found playing the affair difficult at times.
"It has been challenging to play a good girl for six years then have her character change so much. I used to like Tina but now I'm not so sure."
The show's producer had to explain to Keegan why Tina's character would change, "He said that Tina has had a hard life, her character has changed and she is desperate to be loved. This made total sense to me because she is lonely and a bit broken and has been so unlucky with men."
The following contains spoilers that some readers may want to avoid reading.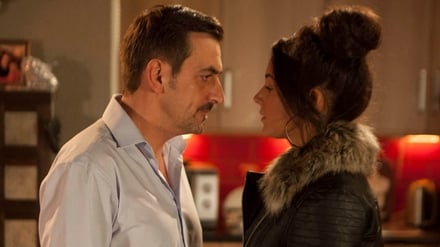 Keegan will leave the show in May and she is worried that the audience won't like her any more, "I don't want to leave with people hating her. But I have total faith in the writers to give her an explosive exit and as an actress that's going to be so exciting to play."
She also revealed that she was surprised by the show's decision to kill her character off, "In a way I felt sorry for Tina because I don't understand why she would have to die. It's a very sad end for her. The poor girl has had such a hard life. But when I was told about the storyline and which characters were involved, it was really exciting.
"It does feel very final because I can never go back, but I think that is a good thing. It feels like I have been given a clean slate. I'm leaving Corrie and leaving Manchester and it feels like the next chapter in my life both professionally and personally."
Keegan is engaged to Mark Wright and it is rumoured they will wed in Dubai.