If you're looking for a good New Year's Eve countdown show we've got some good ones for you to choose from but whether you join Daithi and Sinead in Dublin, or switch over to see who Graham Norton has on his couch, well that's up to you!
New Year's Eve Live, 10.15pm RTÉ One.
Daithi Ó Sea and Sinead Kennedy see in the New Year at the NYE Concert in College Green, Dublin. Madness and Ryan Sheridan are among the acts that will perform at the concert as well as YouTube sensation Seo Linn. Will Leahy is in Limerick, The City of Culture, for a special concert on the banks of the Shannon with special guests The Coronas and Dolores O'Riordan.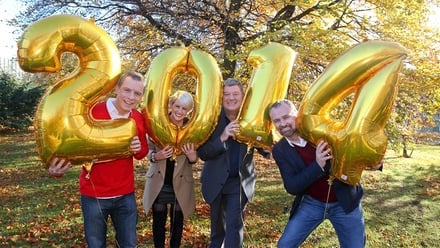 The Graham Norton New Year's Eve Show, 10.15pm BBC One.
Graham Norton's couch never disappoints and he'll be joined by Anchorman 2 stars Will Ferrell, Steve Carell, Christina Applegate, Paul Rudd and David Koechner for this year's New Year's Eve festivities. If classic comedy is more your style however, the Monty Python team will also be in attendance with John Cleese, Eric Idle, Terry Jones, Michael Palin and Terry Gilliam all appearing for what promises to be a night full of laughs. Joan and Jackie Collins will also make a rare public appearance together, Frank Skinner will provide some more comedy and what would a New Year's party be without a performance from Michael Buble?
Next Year's News, 11.10pm RTÉ Two
The Voice's Eoghan McDermott is joined by team captains Neil Delamere and PJ Gallagher for a satirical look at what they think will make the headlines in 2014. Sure to be a good show with a lot of laughs, we can re-group next year and see which of their predictions came true!