Mrs Brown's Boys New Year's special; Agatha Christie's Marple; and Michael Palin in Wyeth's World. Here's our top telly for December 29.
Mrs Brown's Boys, RTÉ One 9.30pm
The hugely popular Mrs Brown's Boys airs its New Year's special tonight. Agnes Brown's run-up to the New Year starts with bad news as Maria discovers that her Auntie Mary has died in a car crash. To add to her pain, Father Damien and the grumpy new parish priest Father McBride announce that Mary's pet parrot will need to be put down unless someone offers to take it in. And Mark and Betty have decided that Bono is going to attend the notorious St Stephen's school.
Agatha Christie's Marple, UTV 8pm
In this new adaptation of the drama, Jane Marple (Julia McKenzie) is staying with her recently widowed friend Marjorie (Wendy Craig) when she encounters a young chauffeur Mike Rogers (Tom Hughes), a charmer who longs to escape his job. He meets Ellie, An American heiress, and the two fall in love and marry in secret. However, when they build their dream home on a local beauty spot called Gypsy's's Acre, a curse befalls them. Ellie is thrown from her horse and dies, leaving Mike to travel to New York to sort out his wife's estate. When two more mysterious deaths occur, Miss Marple is called in to solve the riddle.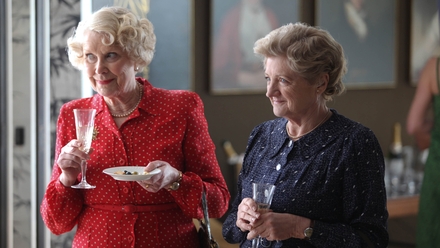 Michael Palin in Wyeth's World, BBC Two 9pm
Michael Palin heads to rural Pennsylvania and Maine to explore the extraordinary life and work of one of America's most popular and controversial painters, Andrew Wyeth. Palin goes in search of the real life stories that inspired his iconic painting Christina's World. Tracking down the farmers, friends and family featured in Wyeth's magically real work, Palin builds a picture of an eccentric, enigmatic and driven painter.