We meet the new Doctor Who; Shirley MacLaine returns to Downton Abbey; and, yes, it's the Mrs Brown's Boys Christmas Special. Here's our top telly for Christmas Day
Doctor Who, BBC One, 7.30pm
Time waits for no man and tonight we shall shed a small tear as Matt Smith disappears into a vortex and is magically replaced by Peter Capaldi as the Time Lord. This year's 50th anniversary episode was a global phenomenon but somehow this Christmas special should be more fun and more emotional. In tonight's show, we visit a quiet backwater planet but up there in orbit, the massed forces of the universe's deadliest species gather, drawn to a mysterious message that echoes out to the stars - and amongst them, the Doctor is out there rescuing Clara from a family Christmas dinner. The Time Lord and his best friend must learn what this enigmatic signal means for his own fate and that of the universe. Guest stars tonight include Orla Brady.
Downton Abbey, UTV, 8.30pm
What would Christmas be without a two-hour helping of forced manners, fine bone china, and historical inaccuracy? We join the mob of toffs in the big house as the summer season kicks in and as part of Rose's "coming out" (it meant something different back then) she is to be presented at Buckingham Palace. The family and servants are at Grantham House, their London residence, preparing for the busy social program. Not one to miss such a grand occasion, Cora's mother, swaggering dowager Martha Levinson (Shirley MacLaine) makes the journey from New York with her playboy son Harold, fresh from his recent brush with the law. Both outspoken and larger-than-life, they make quite an impression amongst certain members of London's high society, in particular with Lord Aysgarth, played by James Fox.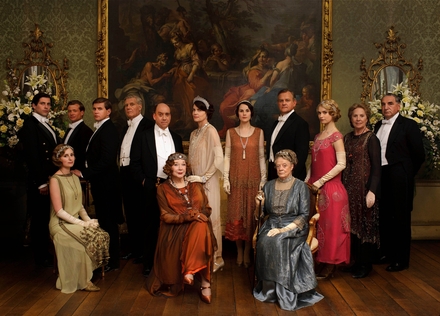 Anyone for a game of historical charades?
Mrs Brown's Boys Christmas Special, RTÉ One, 9.25pm/BBC One, 9.30pm
There is more than a whiff of Les Dawson circa 1973 about Brendan O'Carroll's foul-mouthed matriarch but it appears that modern audiences like their sitcoms traditional and this crimbo spesh will be one of the most-watched things on telly over the season. In the episode entitled Buckin' Mammy, we find Christmas just round the corner but everyone in the dark as to what Mrs Brown's grandson Bono (my aching sides!) wants for a present. He's already posted his letter off to Santa, so how can Agnes find out in time? Meanwhile, at her family games night, the indomitable Mrs B struggles to control her temper when none of the guests will play by her rules. But at least there shouldn't be any problems with the Christmas tree this year – she's having a very special one delivered . . . wot larks!