Stars have paid tribute to former South African president Nelson Mandela following the news of his death aged 95.
Prince William and the Duchess of Cambridge were told of his passing yesterday (December 5) just as they finished watching the royal screening of Mandela: Long Walk to Freedom.
They had attended the 2013 Royal Film Performance at London's Odeon Leicester Square, alongside cast members Idris Elba, Naomie Harris and Mandela's daughter Zindzi.
William told reporters after the screening that Mandela was an "extraordinary and inspiring man" and that his death was "extremely sad and tragic news. Our thoughts and prayers are with him and his family right now."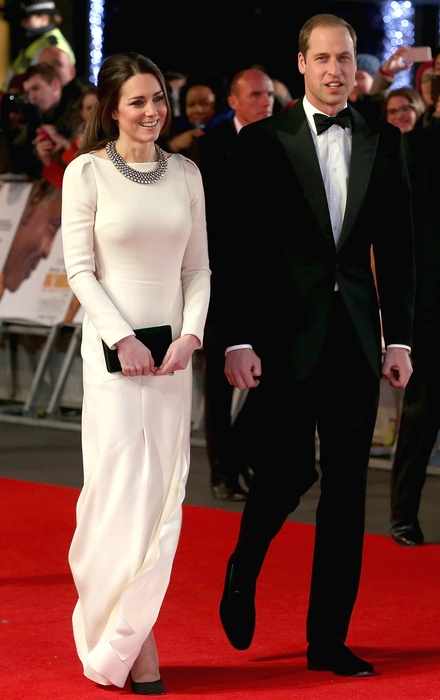 The Duke and Duchess of Cambridge, pictured at the London premiere of Mandela: Long Walk to Freedom
Actor Idris Elba, who portrays Mandela in the highly-anticipated biopic Long Walk to Freedom, said in a statement: "What an honour it was to step into the shoes of Nelson Mandela and portray a man who defied odds, broke down barriers, and championed human rights before the eyes of the world. My thoughts and prayers are with his family."
He continued: "I am stunned at this very moment, in mourning with the rest of the world and Madiba's family. We have lost one of the greatest human beings to have walked this earth, I only feel honoured to be associated with him. He is in a better place now."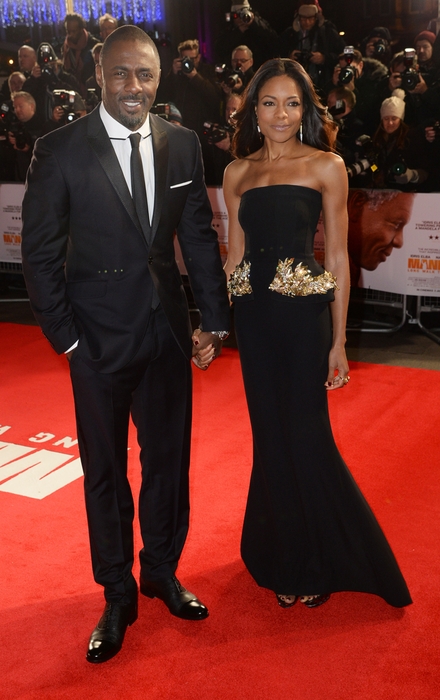 Idris Elba and co-star Naomie Harris walk the red carpet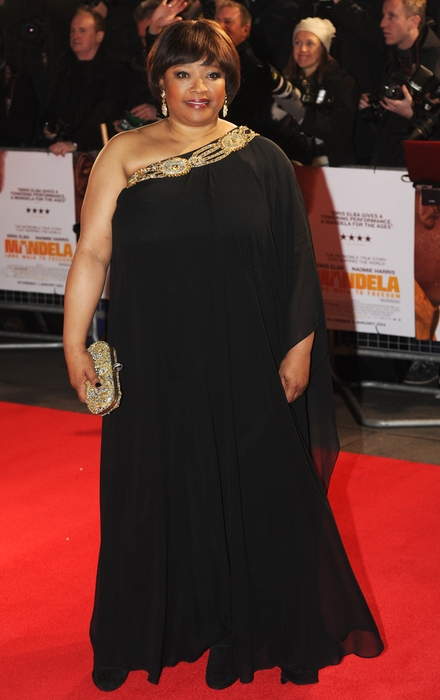 Nelson Mandela's daughter Zindzi also attended the London premiere
Morgan Freeman, who portrayed Mandela in the 2009 movie Invictus, said of his passing: "Today the world lost one of the true giants of the past century. Nelson Mandela was a man of incomparable honour, unconquerable strength, and unyielding resolve - a saint to many, a hero to all who treasure liberty, freedom and the dignity of humankind.

"As we remember his triumphs, let us, in his memory, not just reflect on how far we've come, but on how far we have to go. Madiba may no longer be with us, but his journey continues on with me and with all of us."

Actor Samuel L. Jackson commented: "Never met a better person in my life than Nelson Mandela. My sympathy to his family & his country."
US President Barack Obama spoke about Mandela's legacy from the White House shortly after news of the politician's death was announced.
He said in a televised address: "[Mandela] achieved more than can be expected of any man. Today he has gone home. He no longer belongs to us, he now belongs to the ages."
Mandela served as South Africa's president from 1994 to 1999.