A look at how art has effected sectarian divisions in Derry; a profile of musical theatre great Lionel Bart; and another and another tricky situation for Selina in Veep.
Lionel Bart: Reviewing The Situation, BBC4, 9.00pm
We've said it before and we'll say it again - no Bart no Blur and no Britpop. The great songwriter may be best known for his muscial creation Oliver! but well before stage and screen immortality came calling, he was the man behind such early cockney rockers as Tommy Steele. This new profile has gained access to his memoirs and letters and takes a look at the highs and lows (as well as Oliver! there was also a Robin Hood spoof called Twang!!). Bart certainly liked a glass of wine with his dinner and he was a shining light of music and entertainment.
The Culture Show, Derry Londonderry - A New Chapter, BBC Two, 10.00pm
Derry's year as UK Capital of Culture is coming to and end and tonight Northern Irish author Nick Laird reflects on a year of intense cultural activity which included this year's awarding of the Turner Prize, the first time the award was presented outside England. Tonight's contributors include Frank Cottrell Boyce, whose epic two-day The Return of Colmcille celebrated the city's history through the eyes of its patron saint.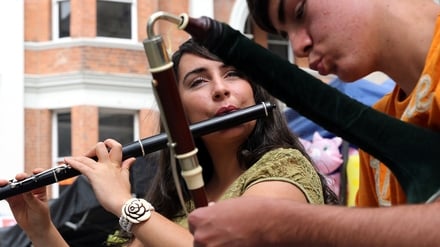 Lionel and Lennon
Veep, Sky Atlantic, 10.35pm
Selina's entourage join her in her private residence as she participates in a potentially tricky interview for the TV news programme First Response with Janet Ryland (guest star Allison Janney). As the cameras roll, the vice president flounders at Janet's questions about the CIA's connection to the recent hostage crisis. Then, just as Selina's ex-husband Andrew is set to arrive for a family lunch, a blog publicises an email he had sent to a lobbyist bragging about his political influence with Selina.