What in The World returns with a look at the modern soccer slave trade; a fly-on-the-door documentary following a private security firm across Ireland; and The Turner Prize is announced live from Derry/Londonderry
What in The World, RTÉ One, 11.25pm
The first programme in the new series covering global poverty and human rights violations.looks at Soccer Slaves. Up to 20,000 young footballers have been trafficked out of Africa and left to fend for themselves on the streets of European cities. The What in the World team film in Paris and Yaounde, the capital city of Cameroon to investigate the scale of this modern slave trade. Among the people we meet is legendary Cameroonian footballer Roger Milla.
Men in Black, RTÉ One, 9.45pm
The Screenworks production company spent six months with some of the men and women who work with Frontline Security, a private security firm based in Dublin, as they patrol major sporting and music events, guard nightclubs and building sites and deal with the public in volatile situations. This documentary looks at how, on occasion, the Irish public relies on ordinary people to keep it safe under a variety of conditions.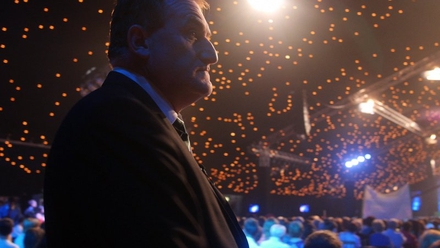 Al Gannon in the Dome at the Rose of Tralee festival
The Turner Prize, Channel 4, 7.30pm
This year the Turner Prize is presented in Northern Ireland for the first time in its history. The winner will be announced live, by actress Saorsie Ronan, on Channel 4 as part of a half-hour programme hosted by Lauren Laverne. The nominees are: painter Lynette Yiadom-Boakye, Tino Sehgal is nominated for his performance work in Tate Modern's Turbine Hall in London last summer; Laure Prouvost is nominated for film installations; and David Shrigley is best known for drawings, but his Hayward Gallery exhibition in London last year introduced his work as a sculptor.