Taylor Swift and Justin Timberlake were the big winners at the American Music Awards, taking home 4 and 3 awards respectively with One Direction honoured with 2 gongs.
23-year-old Swift swept the board last night (Nov 24) picking up the coveted Artist of the Year Award as well as Favourite Female Artist – Pop and Rock, Favourite Female Artist – Country and the award for Favourite Country Album for Red.
After picking up the top award of the night Swift said: "My lucky number is 13, and so far you guys have made 2013 the most magical year so far," Swift said while accepting 'Artist of the Year'.
"I'm 23 and I have no idea what's going to happen to me... I love you so much. It's unbelievable."
32-year-old Justin Timberlake took home the prize for Favourite Male Artist - Soul/R&B as well as Favourite Male Artist - Pop/Rock and Favourite Album - Soul/R&B for The 20/20 Experience
One Direction picked up awards for Favourite Band, Duo or Group - Pop/Rock and Favourite Album - Pop/Rock awards.
The audience were stunned when one of the biggest awards, Single of the Year, didn't go to Robin Thicke's Blurred Lines or to Macklemore and Ryan Lewis for Thrift Shop. Instead the gong went to to Florida Georgia Line featuring Nelly for Cruise.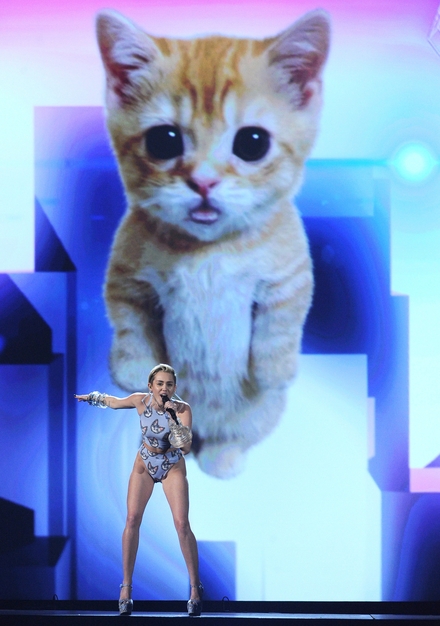 Miley Cyrus took to the stage with a giant, lip-syncing, cat
The New Artist Award went to Ariana Grande. Her competitors in the category were Florida Georgia Line, Imagine Dragons, Macklemore & Ryan Lewis and Phillip Phillips.
The inaugural recipient of the Icon Award was Rihanna awarded by the AMA's committee for her global appeal and influence.
Here is a rundown of all the winners:

Artist of the Year - Taylor Swift

Kohl's New Artist of the Year - Ariana Grande

Favourite Pop/Rock Male Artist - Justin Timberlake

Favourite Pop/Rock Female Artist - Taylor Swift

Favourite Pop/Rock Band/Duo/Group - One Direction

Favourite Pop/Rock Album - Take Me Home by One Direction

Favourite Country Male Artist - Luke Bryan

Favourite Country Female Artist - Taylor Swift

Favourite Country Band/Duo/Group - Lady Antebellum

Favourite Country Album - Red by Taylor Swift

Favourite Rap/Hip-Hop Artist - Macklemore & Ryan Lewis

Favourite Rap/Hip-Hop Album - The Heist by Macklemore & Ryan Lewis

Favourite Soul/R&B Male Artist - Justin Timberlake

Favourite Soul/R&B Female Artist - Rihanna

Favourite Soul/R&B Album - The 20/20 Experience by Justin Timberlake

Favourite Alternative Artist - Imagine Dragons

Favourite Adult Contemporary Artist - Bruno Mars

Favourite Latin Artist - Marc Anthony

Favourite Contemporary Inspirational Artist - Matthew West

Favourite Electronic Dance Music Artist - Avicii

Single of the Year - Cruise by Florida Georgia Line feat. Nelly

Favourite Soundtrack - Pitch Perfect by Various artists
Icon Award 2013 - Rihanna