There's a quite unique look at the 1913 Lockout in Stailc on TG4, while Agatha Christie's Poirot continues on UTV while BBC Two's Ambassadors has more Webb and Mitchell fun and games.
Stailc, 9.30pm, TG4
Des Geraghty examines the 1913 Lockout in its centenary year, focusing on the characters and events of the monumental strike. Having social and political reverberations that can be felt to this day, the industrial dispute led to violent class conflict on the streets of Dublin. This documentary boasts some innovative features and some newly discovered archive newsreel showing Liberty Hall and Beresford Place during the Lockout. It also features actors as well as a graphic novel element.
Agatha Christie's Poirot, 8.00pm, UTV
David Suchet's sleuth is reunited with old friend Ariadne Oliver, who has been commissioned to stage a game of murder hunt at a summer fete in the grounds of Nasse House, the recently purchased home of wealthy financier Sir George Stubbs. However, the novelist's instincts tell her she's getting involved in something much darker - and she's proved right when the girl volunteering to play the part of the victim really does turn out to be dead.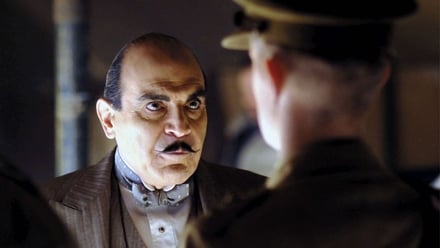 Ambassadors, 9.00pm , BBC Two
Last week's opening episode was quite fun. This week, minor royal Prince Mark of Bath travels to Tazbekistan in his capacity as trade envoy, and soon makes himself unpopular with his demands for luxurious accommodation and high-level service. His arrival coincides with the escape of one of the country's most celebrated and outspoken dissidents, who asks for sanctuary in the embassy. Neil takes the decision to bring him into the compound, which not only incenses his boss but also infuriates the Tazbeks.