Stuart Townsend stars in the European premiere of a new US drama called Betrayal on RTÉ Two, David Tennant leads the cast of The Escape Artist, a new legal drama on BBC One, while Homeland continues to baffle on RTÉ Two.
Betrayal, 10.00pm, RTÉ Two
Dubliner Stuart Townsend stars in this new drama from the makers of Revenge. It's a story based on the Dutch drama series Overspel, and stars Hannah Ware as Sara Hanley, a photographer, who begins an affair with Townsend's Jack McAllister, a lawyer for a powerful family. The show's lovers are both unhappily married to other people, but things begin to really get complicated when it transpires that a murder trial involves the cheating pair – and on separate sides of the case.
Homeland, 9.00pm, Homeland, 9.00pm, RTÉ Two
Well, so much for season the making up for season two. Homeland just gets more disappointing by the minute, and Carrie's "I fooled them!" twist last week was just as cheesy as a plot reveal in an Agatha Christie tale. Anyway, tonight a mysterious man crosses the US-Canadian border, while back in DC Carrie puts her mission on the line to complete a risky favour and Saul is forced to rub elbows with Senator Lockhart on an elite hunting trip.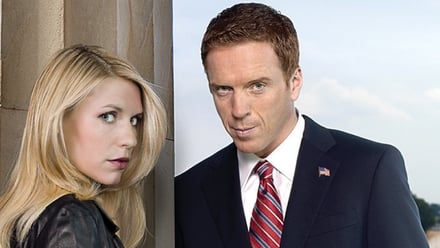 The Escape Artist, 9.00pm, BBC One
This looks promising. David Tennant stars in this drama as Will Burton, a highly talented junior barrister who is in great demand, having never lost a case, much to the frustration of his courtroom rival Maggie Gardner. But when he successfully defends Liam Foyle, who was standing trial for a high-profile murder, he has reason to regret his peerless legal skills. Foyle is a serial killer - and it won't be long he's on the hunt for his next victim.