David Mitchell and Robert Webb are back in a new comedy on BBC Two called Ambassadors, there's a stunning drama about the Irish Civil War on TG4, while David Suchet returns to play Agatha Christie's Hercule Poirot on UTV
Ambassadors, 9.00pm , BBC Two
Set in the fictional Central Asian Republic of Tazbekistan, David Mitchell plays newly arrived British Ambassador Keith Davies and Robert Webb his seasoned second in command, Deputy head of mission, Neil Tilly. The ambassador is tasked with securing a major helicopter contract for the UK. Things begin badly when Davis accidentally shoots the national animal while on a hunting trip with the president - and are further jeopardized when an arrogant young British human rights activist is arrested on trumped-up charges.
An Léigéar 1922, 9.30pm, TG4
This bi-lingual, one-hour film captures the violence that tore Ireland in two and the acrimonious consequences of its Civil War for future generations to come. The street fighting in Dublin from June 28 to July 5 1922 was the first campaign of the War and ended with the defeat of the republicans and the securing of the capital city for the Free State. Containing incredible never before seen archive footage, the film depicts ten dramatic days in the history of a nation.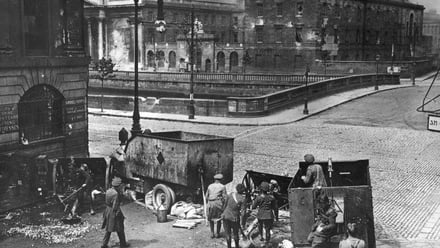 Agatha Christie's Poirot, 8.00pm, UTV
David Suchet stars for the final run of this version of Christie's Belgian sleuth. Poirot is reunited with sidekick Captain Hastings (Hugh Fraser), secretary Miss Lemon (Pauline Moran) and Inspector Japp (Philip Jackson) in a case that plunges him into the world of global espionage as the Second World War looms. The public are in panic after the shocking death of Russian grandmaster Ivan Savaranoff during a game of chess and Poirot tries to determine the good guys from the bad.