A look inside one of Ireland's most exclusive schools; TV3 uncovers the high life of Irish Travellers in America; and the return of Aaron Sorkin's newsroom drama - here's our top telly tips for Monday.
The Scholarship, RTÉ One, 9.35pm
In the heart of Dublin's north inner city, Belvedere College is one of Ireland's most highly respected educational establishments. A fee-paying private school, it boasts some of Ireland's most famous names among its ranks of former students – from James Joyce to Tony O' Reilly to Garret FitzGerald – as well as hundreds of other high achievers from different walks of Irish life. It costs approximately €5,000 per pupil per year to attend Belvedere College. What few people know, however, is that every year Belvedere through their Social Diversity Programme (SDP) offers almost 10% of its places to boys whose families, due to financial and social barriers, could never otherwise afford to attend the school. Director Kim Bartley was granted access to the inner workings of Belvedere College SJ and to the lives and homes of five families who hoped to gain one of their coveted bursaries. The cameras followed all their journeys as they made the transition from primary to secondary school.
Travellers in America – A Secret Society, TV3, 9.00pm
Travellers In America: A Secret Society gains access to one of the wealthiest and most secretive communities in the whole of the US as reporter Paul Connolly travels to the Deep South to meet notoriously media shy travellers and discuss their wealth, secrecy, rules and marriage traditions. Descended from a small number of families who first journeyed across the Atlantic in the late 1830s, this close-knit community of Irish travellers have since laid down roots. They've thrived and fast become one of the wealthiest and most enigmatic minorities in the whole of the US. Connolly visits Murphy Village in South Carolina, where he was given access to this controversial community and their two distinct settlements for the first time.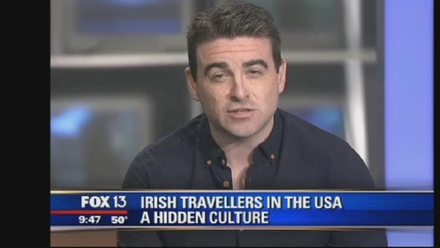 Paul Connolly presents a new series on American Travellers
The Newsroom, Sky Atlantic, 9.00pm
Aaron Sorkin's drama set behind the scenes at fictional cable network ACN returns for the second season with a episode entitled First Thing We Do, Let's Kill All The Lawyers. The team are under scrutiny from their legal team following a story that has thrown the network into crisis. As we're shifted back in time to late August 2011, the events that led to the damaging report begin to unravel, with an off-hand referral to the Tea Party movement as the "American Taliban" the catalyst for what has since occurred. Scarily realistic stuff.