The competition is heating up on Celebrity MasterChef Ireland, with the three finalists taking to the kitchen to prepare a three course meal in Dubai.
Aengus Mac Grianna has opted to make Seafood medley with a cauliflower puree, Arabian lamb shank with apricot couscous and Rosewater and pistachio meringues with honey ice cream served with fig and date compote.
Athlete David Gillick is making Quinoa crumbed lamb cutlets, Halibut fillet with an avocado, apple and celeriac remoulade with lemon vinaigrette and Summer meringue torte.
Maia Dunphy's menu consists of Scallop ravioli with seared scallops and butter sauce, Pan fried fillet steak with parmesan truffle fries in a parmesan basket with vegetables and béarnaise sauce and Chocolate fondant with pistachio ice cream.
Dunphy said of her dessert: "I'm worried about my dessert. It's quite a simple thing – it's a chocolate fondant but I've seen it on previous shows. Every time someone says a chocolate fondant everyone goes "Ooooooh dangerous".
Her premonitions proved to be accurate as the fondant collapsed as she took is out of the container. Can she salvage her final Celebrity MasterChef Ireland dessert?
Meanwhile, Gillick cut two of his fingers just before plating up, will he manage to plate up in time?
And judge Dylan McGrath expressed his concern's over Mac Grianna's lamb shank main course, saying: "It's a braised piece of meat that needs to be braised brilliantly. I'm not sure whether or not he has the expertise to do that. There's no doubt Aengus has done a great job. The boy has cooked some seriously refined food.
"I do have faith in him but right now I can see some couscous and a big lamb shank and I'm wondering – all the talent that he has – I wanna see a bit more refinement. It just seems like a strange choice. I wanna be wowed!"
See who will be crowned Celebrity MasterChef Ireland tomorrow night at 9:30pm on RTÉ One.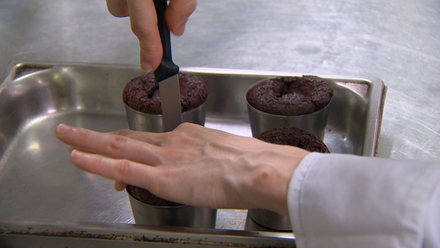 Dunphy's chocolate fondants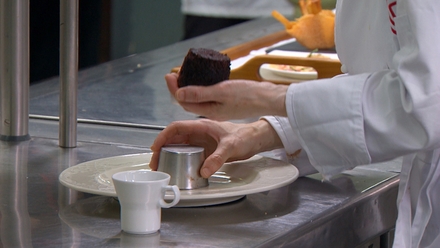 Plating up her dessert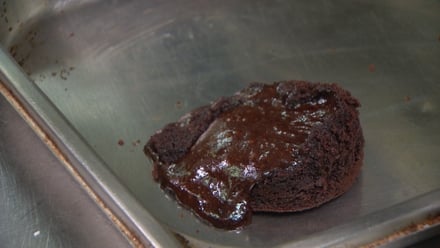 Unfortunately all doesn't go to plan as the fondant collapses