Gaming Blog
Wednesday 11 Dec 2013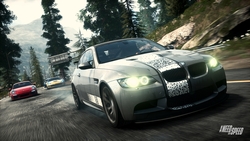 EA's latest arcade racer is revved up and ready for action, writes John Walshe.
The Need For Speed series has proved one of the most successful arcade racing franchises ever created, and it's not hard to see why. The games plug into racing fans' need for high octane thrills without too much simulation getting in the way.
That's not to say that the cars don't handle realistically - they do. And what magnificent mechanised machines they are. But the racing here is all about adrenaline rather than realism: smash your car off the side of a suspension ...