Gaming Blog
Thursday 19 Dec 2013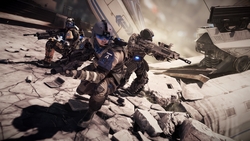 Killzone's debut on the PS4 is the best in the series to date, writes John Walshe.
Welcome to the future. The year is 2370, and fires have reduced the planet of Helghan to a lifeless rock, with the result that the warlike Helghast are weirdly given half of Vekta, their former enemy's home planet. An uneasy truce prevails; indeed, thousands of Vektans are forced to move from their homes to make way for the Helghan settlers.
The game begins as two of those leaving their home, pre-teen Lucas Kellan and his father Michael, find themselves embroiled in a ...