John Byrne's TV choices for the week ahead (Dates covered: Sat Jul 26 - Fri Aug 01).
Among the new and returning shows are the Kerry Washington-starring US drama Scandal and RTÉ One's Pet Island. Going through the Out Door are Grey's Anatomy and Hannibal . . .
Pick of the week
Scandal, Thursday, Sky Living
Season three of this highly addictive and frantically paced drama from Grey's Anatomy creator Shonda Rhimes sees the show move from the UK's Channel 4 subsidiary More4 to Sky Living. Kerry Washington stars as Olivia Pope, Washington DC's ultimate crisis management professional, who has turned damage limitation into an art form.
Picking up from the season two finale, Olivia has been exposed as the US President's 'other woman' in the biggest scandal to rock the White House since the last one - but this is far from over as it's Olivia's territory and she won't go down without a fight. As her team rally 'round to figure out what to do, she and the POUS come up with a plan of their own.
Meanwhile, Vice President Sally Langston uses the president's indiscretions as an opportunity to become the moral centre of the party, and it soon becomes clear that Olivia's father will stop at nothing to carry out his orders and no one, including his daughter, can stand in his way.
Trailer Time:
Star of the week
Sandra Oh
Grey's Anatomy, Tuesday, RTÉ Two
In a poignant season finale, it's farewell to fan favourite and original cast member Sandra Oh, as Cristina Yang leaves Seattle for a new life in Zurich. Not only is she leaving behind her mentors Richard and Bailey, and ex-husband-turned-boyfriend Owen, there's also BFF Meredith.
As Cristina faces the inevitable and prepares for her flight to a new life, a possible act of terrorism rocks Seattle when an influx of patients from an explosion at a shopping mall brings chaos to the ER.
Meredith, meanwhile, makes a life-changing decision that will test her marriage to Derek, and Cristina's parting words give Alex food for thought. Plus, the hospital's new head of cardio, Dr Maggie Pierce (Kelly McCreary), inadvertently delivers shocking news to a member of the team.
Trailer Time:
Also ending this week:
Starting this week
Pet Island, Thursday, RTÉ One
This new series is all about Ireland's most pampered pets and their besotted owners. These people include pet psychics, an opera singer who serenades his mini-donkeys and a former Miss Ireland contestant who sleeps with seven dogs. We also meet the contestants in a cat fancy dress competition, dogs who attend day care and a group of cats who are learning to use the toilet.
Episode one goes on the trail of Ireland's most glamorous pet owners, Martin Bailey and his fiancée Jennifer Duggan. They live with six Maltese and an Old English Sheep Dog called Guapo who apparently dreams of being crowned Best in Show at Ireland's biggest dog show. In his way stands Cork Groomer Colm Hastings and his American-born bitch, Vicky. We also meet a group of cat ladies who agree to trial a product that, it is claimed, will train cats to use the loo.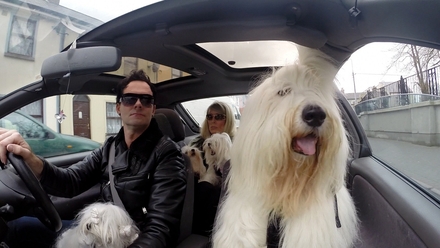 Martin Bailey and family
Also starting this week:
Matrioshki (Wednesday, Sky Arts 1)
In recent years we've had Danish, Italian, French, Norwegian and Spanish dramas to choose from, and now it's time to sample a bit of Belgian. The Russian-sounding Matrioshki is a 10-part drama following the story of 10 young impoverished Eastern European women who have been lured to Belgium with the promise of a better life by a ruthless criminal gang.
The Singer Takes it All, Friday, Channel 4
The latest from Endemol is hosted live by Alan Carr as viewers at home (presumably only in the UK) will take total control of a game show, becoming both judge and jury via a real-time interactive app. Each week budding singers will perform live on a moving stage while viewers rate performances a 'hit' or a 'miss' and see the results just seconds later. Sounds horrendous - and pretty much unmissable.
The Last Leg, Friday, Channel 4
Adam Hills and regular co-hosts Josh Widdicombe and Alex Brooker take a look at the weird and wonderful talking points of the week. The trio are joined by a live studio audience and a weekly special celebrity guest.
Ending this week
Hannibal, Tuesday, Sky Living
Although it's Itchy and Scratchy compared to the stomach-churning violence of Channel 4's Utopia, this show plays around with your head while making you queasy, especially around dinner time at Hannibal's, which is basically carnivore porn. Here, the final course in season two's gruesome banquet of gore is served. Expect guts galore from the start.
Trailer Time (contains violent scenes):
Also ending this week:
Tales of Irish Castles, Sunday, TV3
Simon Delaney concludes his entertaining traipse through several Irish castles and their history by taking a look at Castle Leslie in Monaghan.
This Old Thing: the Vintage Clothes Show, Wednesday, Channel 4
Dawn O'Porter concludes her sartorial sorting-out when she meets Lucie from London, whose High Street addiction is giving her no pleasure.
The Cruise Ship, Friday, UTV
It's time for the crew of the Royal Princess to say their goodbyes for a season, but for one dancer, Bev, it could be a final farewell.
Drama of the week
CSI: Crime Scene Investigation, Wednesday, RTÉ Two
It's another milestone for the CSIers as the show reaches its 300th episode with this week's double bill. The departed Marg Helgenberger - who starred in the first 12 seasons - returns to reprise her role as Catherine Willows in order to help the homicide-solvers get to the bottom of a cold case that has haunted the team for 14 years. In other words, going back to when the show first started. On the later episode, The CSI team investigates the death of a homeless man who enjoyed a huge winning streak at a small casino.
Trailer Time:
Comedy of the week
Noel Fielding's Luxury Comedy 2, Thursday, E4
The truly unique Noel Fielding returns to E4 for a second season of this show, which takes place in a coffee shop on the edge of a volcano in Hawaii. Much-loved returning characters include painted New York cop Sgt Raymond Boombox, a music-producing hammerhead shark, and Secret Peter (Noel's landlord) along with his brother Peter Out in the Open. Guest stars include Richard Ayoade, Steve Oram, Simon Farnaby and Rich Fulcher. Utter nonsense. But fun.
Trailer Time:
On Demand
The West Wing Seasons 1-7, From August 1, Sky
Easily one of the greatest shows in TV history, Aaron Sorkin's marvellous ensemble drama is pretty much perfect in every detail. I envy anyone who hasn't seen it before.
The Killing, From August 1, Netflix
The fourth season of the US adaptation of the original Danish thriller, which was cancelled twice before Netflix picked it up. Key cast members Mireille Enos and Joel Kinnaman will return, and the run will consist of six shows. While it might lack some of the original's quality, the two leads are excellent, so this is well worth a look.
Trailer Time:
Documentary of the week
Rough Rider, Monday, RTÉ One
When Paul Kimmage writes and talks about cycling, it's different to other sports for him. It's personal. He gets enraged with a sport where young men have lost their lives to doping. He loves and hates the sport in equal measure - which should make this documentary about him pretty compelling. Filmed over two years, this documentary feature film brings you into the world of professional cycling. Told against the backdrop of the fall of US cycling legend Lance Armstrong and the 2013 Tour de France, we follow former professional cyclist-turned-journalist, author and anti-doping advocate Kimmage on a journey of loss and redemption.
Trailer Time:
Film of the Week
V For Vendetta, Monday, Sky Movies Sci-Fi & Horror
In a dystopian future (is there any other kind these days?), Britain is run by a totalitarian government, and a masked vigilante called V (Hugo Weaving) is spearheading a rebellion. Natalie Portman stars as the young woman who, wronged by the authorities, joins his violent uprising. The Wachowskis wrote this political/action thriller based on the hugely popular graphic novel by Alan Moore, who disassociated himself from the film adaptation. Watch the film, then go buy the novel. Both are worth it.
Trailer Time: