John Byrne looks back on a game-changing episode of The Good Wife, large chunks of Glastonbury, an animated spy series on demand, life in the Mormon community - and the latest World Cup action.
Reviewed: The Good Wife (Thursday, RTÉ One); Glastonbury (BBC); The World Cup (daily, RTÉ Two); Archer (Netflix); Meet the Mormons (Thursday, Channel 4).
I know other shows are cooler and/or get much more hype, but The Good Wife is consistently the best show on TV and has been for most of its run, which now stretches into a fifth season.
Never one for legal dramas, I was surprised when this show came along that I was immediately hooked. A great ensemble cast, excellent characters and interesting scenarios, as well as a fantastic array of guest stars that always deliver, The Good Wife has been serving prime time TV par excellence since the beginning. But even by this show's impeccable standards, last Thursday's episode was stunningly impressive.
Regulars knew it was coming that Alicia and Cary were going to split from Lockhart-Gardiner and form their own law firm, but when it actually happened it made for jaw-dropping TV.
As in real life, it was all a bit sloppy as Diane discovered the truth and told Will. Clearly upset at the betrayal, Will reacted by immediately sacking Alicia and all around her, and having her physically removed from the offices.
Their parting was electric: as Will pushes the button to close the office lift door and send Alicia away, she says: "This was never meant personally." He responds with a cold "I don't give a damn" as the door closes. Alicia starts to cry. Everything's changed, irrevocably.
Then the real fun began, as both sides began a desperate pursuit of clients, as Alicia fights for survival and a betrayed Will attempts to crush a new rival. It was a draining, stunning, utterly compelling hour of drama, and a complete game-changer for the best prime time drama I've seen since The West Wing. How do they do it?
Here's a taster of this week's episode of The Goof Wife:
With the World Cup continuing on its merry way (more of that later), the weekend was always going to be a bit of an odd one for telly-viewing given that I would be glued to the Beautiful Game for a minimum of ten hours - and then there was Glastonbury (BBC).
I may be someone who has never wanted to attend a music festival - I hate rain, mud, tents and hippies - but if I'm offered one in the comfort of my own front room, I'm in. So, all that's ever really meant is that I've tended to gobble up as much of Glasto every year since the BBC started giving it tons of exposure across their various TV channels.
Friday started off with the reassuring sight and sound of Jo Whiley and Mark Radcliffe, and the promise of Arcade Fire. The Beeb made full use of their TV channels, conveniently breaking things down so that toe-dippers could see the headline acts on BBC Two, the fresh-faced could see the up-and-coming acts on BBC Three, while BBC Four was home to what they term "classic acts".
The Beeb set, as always, looked great and had a superb view over Worthy Farm, which meant I'd an even better view at home. And the beer remained cold. There was some technical cock-up early on, and the tennis at Wimbledon interfered with the schedule, but by the time Arcade Fire came on, any earlier glitches were forgotten.
They may be a stadium rock act now, with all the palaver that goes with the territory, but Win Butler and the gang still know how to cook up a storm on stage, and by the time they were playing Wake Up, I was standing on the rug, contemplating climbing the coffee table and giving it socks as though I were right there. And afterwards, I could just retire to the comfort of my own bed. Ah, the joys of "the suburbs", as it were.
Saturday brought a mixed bag, and I was particularly disappointed by Lana Del Ray, who made Ian Brown sound like Rufus Wainwright, and slightly miffed by Bryan Ferry, whose workmanlike backing band made him seem dull and uninteresting when he's anything but.
I was pleasantly surprised by Jack White, while Metallica are obviously very good at what they do, but what they do doesn't interest me for long than about 16 bars. Also caught a bit of Jake Bugg, whose skiffle-folk is highly entertaining if also extremely career-limiting, not that it's likely he cares about that.
By Sunday evening I was dead on my feet in my own front room. Dolly Parton didn't help, and the sight of 100,000 plus people singing along to 9 to 5 left me with no option but to play for penalties until Kasabian came along and made this festival lark look so easy. Bombay Bicycle Club and The Black Keys were also worthy of investigation on an exhausting final day.
And remember, I was taking all this in while catching every kick in the World Cup (daily, RTÉ Two). Saturday saw the knockouts begin and host nation Brazil rode their luck against Chile. Later, Colombia set up a quarter-final tie against Neymar, Fred and co with a comfortable demolition of Uruguay, while Sunday's games saw the Netherlands mug Mexico while Costa Rica ground out a penalty shoot-out win against a surprisingly adventurous Greece.
But the weekend belonged to Colombia's James Rodriguez and his exquisite goal. Can this World Cup get any better? Certainly, Monday's performance by Algeria, who went down bravely against the Germans, left me almost as emotionally drained as RTÉ analyst Didi Hamman, who visibly aged a decade over the course of a fascinating game of ball. Time for something completely different . . .
I've hearing good reports about a US animation show called Archer (Netflix) and finally decided to do something about it when I discovered it's on tap for Netflix subscribers, and comes from the stable that . All five seasons are available and if the pilot episode is anything to go by, this is great fun.
Sterling Archer is a secret agent straight from the drunk and sexist Ian Fleming school of espionage. All he's interested in is having a good and expensive time. In this opener he's got himself in trouble for misusing expenses and inadvertently reveals a mole, with typical gun-wielding consequences. It was funny, which is more than you can say for most of US TV's recent comedy output.
Finally, a self-explanatory documentary called Meet the Mormons (Thursday, Channel 4). I've had the odd chat with Mormon missionaries at the front door and found them impeccably polite and respectful of my own belief-system, but this was an eye-opener.
Mormon life is pretty hardcore and requires a huge level of commitment. The gargle and premarital sex bans alone would surely melt the mind of your average 19-year-old Irish student.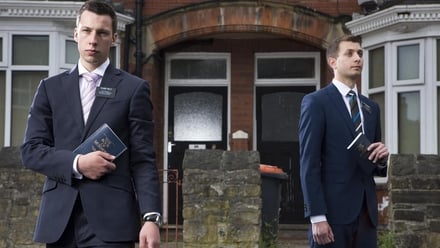 The lad at the centre of the documentary, a young Leeds-based missionary called Josh, seemed torn between the salvation he perceives to be at the centre of his recently-found faith, and with the world he's more familiar with, including his mother, which the church insists he must leave behind. Isolation seems to be central to the initiation process, and it was heart-breaking to see him break down and cry.
Whether or not Josh remains a Mormon, I can only hope he finds self-worth and some happiness in this life. Just in case there isn't another one.
John Byrne