John Byrne's TV choices for the week ahead (Dates covered: Sat Jun 28 - Fri Jul 4)
Maggie Gyllenhaal stars in a new eight-part drama, Criminal Minds is back – and it's season finale time for The Mentalist, The Great Irish Bake Off and The Family Project
Pick of the week
The Honourable Woman (Thursday, BBC Two)
If the cast is anything to go by, this new eight-part drama could be the unmissable new show of the summer. Maggie Gyllenhaal, Andrew Buchan, Tobias Menzies, Stephen Rea and Eve Best all star - and that's just for starters.
Gyllenhaal plays Nessa Stein, a powerful Anglo-Israeli businesswoman who strives for equality and peace in the Middle East, heading up the powerful Stein Foundation with her brother Ephra (Buchan). Nessa's father was a Zionist arms procurer, and as children, she and Ephra witnessed his assassination.
As an adult Nessa inherits her father's company and dramatically skews its original purpose from supplying arms to laying high-spec data cabling networks between Israel and the West Bank. Now in her thirties, her sudden appointment as a life peer, apparently due to her tireless promotion of projects for reconciliation between the Israelis and Palestinians, creates a turbulent international political situation.
As she receives her honour from the House of Lords, Samir Meshal - a Palestinian businessman with connections to the family - is killed, forcing Nessa and her family to become even more vigilant. Tensions increase when the young son of the Stein family's nanny is kidnapped.
Trailer Time:
Star of the week
Monty Python's Flying Circus
Imagine . . . Monty Python: And Now For Something Completely Different (Sunday, BBC One)
While fans of the legendary British comic crew wait expectantly for next month's live gigs at London's O2, this Imagine special follows the surviving Pythons as they prepare for the reunion John Cleese previously dismissed as "absolutely impossible" and which Eric Idle joked would only happen "if Graham Chapman came back from the dead".
Instead, when tickets for a one-off show in London went on sale last November, they were gone in 43 seconds. Nine extra dates were added, all of which sold out, and then came offers from Australia and America. But the five remaining members (collective age 357) instead decided to bring down the curtain on Monty Python for good when this run of shows comes to a close.
In the 40 years since they initially broke up, each member has gone on to forge a successful solo career. Alan Yentob meets up with the reunited Pythons, and enjoys exclusive access to the reunion rehearsals.
Here's the cinema trailer for And Now For Something Completely Different:
Starting this week
The South Bank Show Originals (Thursday, Sky Arts 1)
Sky bring some of the most famous episodes of The South Bank Show back to television with added footage and extra interviews and contributors.
Each episode refreshes the profiles of some artistic greats including Paul McCartney, Luciano Pavarotti, Francis Bacon, Ingmar Bergman and Iggy Pop. Melvyn Bragg also reminisces about the day he spent with each of his subjects, such as a wine-fuelled lunch and interview with Bacon and how the paparazzi swarmed around Pavarotti's beach house after the tenor and his mistress appeared for the first time in public on the same day as the interview with Bragg.
Paul McCartney is first up, as he was when The South Bank Show started in 1978. Alongside footage taken directly from his original interview, Bragg discusses what it was like to meet him and why he chose a pop subject as the first guest. Journalist and presenter Clive James also contributes as one of the few TV critics who appreciated the series' popular agenda.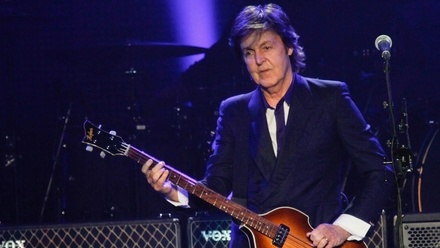 Also starting this week:
America's Next Top Model (Thursday, Sky Living)
Season 20! Blimey! Tyra Banks returns with a new edition of the modelling competition that, for the first time, opens up the process to men. Expect extreme cattiness from the start.
True Detective (Tuesday, Sky Atlantic)
Another chance to see this superb eight-part drama starring Hollywood heavyweights Matthew McConaughey and Woody Harrelson as a pair of cops seek a deranged serial killer.
Ending this week
The Mentalist (Tuesday, RTÉ One)
This sixth season marked a major shift in the show as it shed several cast members and swapped the CBI for the FBI. With Red John gone, it's a straightforward procedural these days with no significant sub-plot arc, so it's an even lighter watch than before but just as much fun. In this season finale a new lead surfaces in a cold case, forcing Agent Lisbon to postpone her plans to relocate, and this delay allows Jane time to examine his feelings for her and decide how to proceed. Is he finally going to realise that he loves her and do something about it?
Trailer Time:
Also ending this week:
The Great Irish Bake Off (Thursday, TV3)
The three remaining contestants battle it out for this year's title.
The Family Project (Monday, RTÉ One)
Yvonne Keating helps out a Kilkenny-based single mother and her two little boys.
Star-Crossed (Saturday, Sky 1)
Disappointing teen sci-fi drama concludes as Emery turns to an unexpected ally for help when Roman is badly hurt. No snoring at the back.
Ripper Street (Monday, RTÉ One)
Season one of this excellent Victorian London drama (filmed in Dublin, of course) comes to a dramatic end as Jackson is accused of being the Ripper.
Drama of the week
Criminal Minds (Wednesday, RTÉ Two)
Yep, it's back again. This procedural has been going for almost a decade and despite several cast changes it shows no sign of fading away – mainly because it gently scares the bejabers out of its audience. This eighth season opener sees Jeanne Tripplehorn join the cast as Agent Alex Blake. In her first case with the BAU, the team travels to Texas after an ambulance carrying a prisoner overturned on a deserted highway. The prisoner, an UnSub known as 'The Silencer', escapes after sewing the guard's mouth shut and killing him. Sounds like quite a guy.
Trailer Time:
Comedy of the week
Last Week Tonight with John Oliver (Tuesday, Sky Atlantic)
British comedian, actor and writer John Oliver (he was in the great Community) delivers more breaking news on a weekly basis as his current affairs series continues. The topical series sees the former Daily Show reporter offer his unique and distinct take on a variety of social, political or existential issues facing society. Filmed in New York, it airs on Sky Atlantic less than 48 hours after its HBO premiere.
Here's John Oliver's take on the death penalty. Warning! Industrial language on the loose here:
On Demand
The Powerpuff Girls (Available July 1, Boomerang)
Do yourself a major favour and check out one of the greatest animation shows of recent decades. Blossom, Bubbles and Buttercup join forces to protect Townsville from a series of baddies - and still manage to get to bed on time. In this first season, Buttercup is smitten with the leader of the Gangreen Gang, but the romance quickly turns sour. Awesome!
Here's The Powerpuff Girls' theme:
Documentary of the week
Way to Go: Death and the Irish (Tuesday, RTÉ One)
Presented by Norah Casey, whose husband Richard died in 2011, this frank and revealing film features first hand experiences of a broad range of people including healthcare professionals and people who are dying speaking openly and honestly about going through what will be the last months of their own lives.
There are also anecdotes from well-known figures such as actor Gabriel Byrne, broadcasters Marian Finucane and George Hook, plus comments from members of the general public.
The programme prompts the question, given the fact that death is 100% certain to happen to every single one of us, why don't we want to talk about it? It also examines the idea of planning ahead for a more dignified death.
Trailer Time:
Film of the Week
Veronica Guerin (Saturday, RTÉ One)
Cate Blanchett leads a great cast in this second biopic about slain Sunday Independent journalist Veronica Guerin, who was callously and cowardly assassinated by the thugs she was exposing. Her murder took place 18 years ago, but it remains a grim chapter in the relentless battle against ruthless Irish criminal gangs.
Trailer Time:
John Byrne