John Byrne's TV choices for the week ahead (Dates covered: Sat Jun 21 - Fri Jun 27)
The feast of World Cup football continues – but it's off the menu here because there are plenty of other delights on offer, from Glastonbury to Donal Skehan to new Aussie drama Wentworth Prison. Dig in!
Pick of the week
Ireland's Ocean (Sunday, RTÉ One)
David Attenborough? Who? This is a major new four-part ocean wildlife series exploring the remarkably diverse creatures that live in the seas around Ireland - from headline-grabbing dolphins and sharks to plankton and the tiny colourful creatures that live in our shallow waters.
The opening episode focuses on those much-loved dolphins. Believe it or not, there are 27,000 common dolphins living in Irish waters and half the European population of bottlenose dolphins, and yet we have limited knowledge of these creatures. Here, scientists Drs Joanne O'Brien and Simon Berrow explain the workings of dolphin social groups and look at the welfare of dolphins in Irish waters.
For example, Dusty is a solitary bottlenose dolphin that has been living off the Clare coast for the last ten years. In the summer of 2013, she made global headlines when she attacked several swimmers and caused them serious injuries. Ireland's Ocean meets people who have built their lives around developing a relationship with Dusty and Dr Berrow explains what might be going on with these interactions and their potential consequences.
Trailer time:
Star of the week
Glastonbury (From Friday, across the BBC)
One of my favourite weekends of the year, this, and I don't even need wellies to stay mobile and my tent's made of brick. It's hard to beat seeing some great acts performing live at the legendary Glastonbury festival from the comfort of your front room.
This year the Beeb will once again be delivering early and often from Worthy Farm across their various media platforms. On BBC One, The One Show will kick-off Friday's TV coverage with presenters Chris Evans, Alex Jones and Fearne Cotton.
BBC Two will be broadcasting some of the biggest acts and moments from across the weekend, with programmes presented by Mark Radcliffe, Lauren Laverne and Jo Whiley. Friday's programme highlights will include Arcade Fire's performance on The Pyramid Stage.
BBC Three will provide a younger perspective on the (increasingly grey-haired) festival and will feature performances from the likes of Rudimental, HAIM and Lily Allen. Across the weekend, BBC Four will also show performance highlights from some of the classic acts performing at the festival.
Glasto is the gift that just keeps on giving.
Here's a brief reminder of what happened last year:
Starting this week
Wimbledon (Monday, BBC One, BBC Two, TG4)
If you've had enough of the boys in Brazil - or just fancy some smaller balls - here's something a little more genteel and upmarket: the annual racket from Wimbledon. The seemingly impossible finally happened last year when Britain got itself a first Men's Singles' title in almost a century. It was a bit like Leitrim winning an All-Ireland, or San Marino lifting the World Cup. Can Scotsman Andy Murray retain a trophy that avoided so many of his compatriots for so long? Probably not. As for the ladies, it seems to be between the in-form Maria Sharipova and the current world number one and five-time Wimbledon winner, Serena Williams.
Here's Andy Murray winning last year's Men's title:
Also starting this week:
Kitchen Hero: Rediscovering the Irish Kitchen (Tuesday, RTÉ One)
Loosely based on the recipes of the late Irish food writer Theodora Fitzgibbon, this new six-parter sees Donal Skehan looking back over the last 50 years, drawing culinary inspiration from a generation that cooked much more often than his own generation, yet had access to far fewer ingredients.
Trailer time:
Tales of Irish Castles (Sunday, TV3)
Simon Delaney hosts a new show that does exactly what it says on the tin of film as it features Irish castles with great personal, military, social or family stories.
Love Your Garden (Tuesday, UTV)
That rather chummy Alan Titchmarsh comes to the rescue of a Manchester family whose garden needs a lot of work, and for a very good reason.
Beauty Queen or Bust (Thursday, Channel 4)
This three-parter follows various hopefuls aiming to go all the way in the Miss World contest. By all accounts, it ain't gonna be pretty.
Ending this week
Fargo (Sunday, Channel 4)
This has been a really impressive performer despite getting surprisingly little exposure since it arrived on Channel 4. Anything with both Billy Bob Thornton and Martin Freeman's got to be worth watching and I predict that Fargo Season One could be the box set that gets to eat up a lot of next Christmas's gift tokens. In the last episode of the first season, Molly takes the lead, while Gus pursues a hunch. Lester manipulates the situation, and Malvo finds a new target.
Trailer Time:
Also ending this week:
Modern Family (Monday, Sky 1)
This show is almost Cosby Show-cuddly at heart, but the writing remains sharp after five very successful seasons and that ensures it maintains a little edge. In recent weeks, everything that could go wrong has done just that for Mitch and Cam and their disastrous big day so here's the likely happy ending in this season closer. It begins optimistically enough when Pepper manages to find a new venue, only for the couple to once again be kicked out and, consequently, forced to hold the wedding ceremony at home.
Mr Sloane (Friday, Sky Atlantic)
Robert B Weide's 1960s-set comedy concludes as Jeremy's day takes an unexpected turn when his previously-departed wife Janet calls around.
The Meaning of Life (Sunday, RTÉ One)
In a rare personal interview, Taoiseach Enda Kenny talks to Gay Byrne about the people, events, ideas and beliefs that give his life meaning.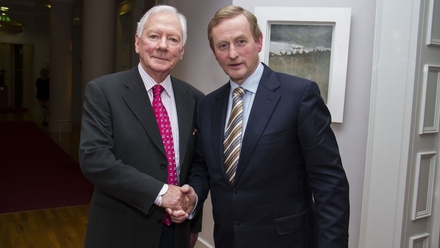 About a Boy (Monday, Sky 1)
A big move is on the cards for Will, in this okay sitcom based on the film of the book, when girlfriend Sam asks him to come to New York with her.
Intelligence (Thursday, Sky 1)
It's the end of the line for this (frankly dull) sci-fi drama starring the otherwise very watchable Josh Holloway. Better luck next time, Josh.
The South Bank Show (Thursday, Sky Arts 1)
Melvyn Bragg meets Daniel Radcliffe in New York, where the former Harry Potter star is performing in a much-praised production of The Cripple of Inishmaan, which co-stars Pat Shortt.
Drama of the week
Wentworth Prison (Monday, TV3)
50 Shades of Prisoner Cell Block H, as this contemporary re-imagining of the cult 1980s' Australian womens' prison drama arrives. The story focuses on Bea Smith (Danielle Cormack) when she first enters prison after being charged with the attempted murder of her husband. She is separated from her daughter and sent to Wentworth on remand, where she lives in an uncertain limbo until she is sentenced. Smith is then forced to learn how the prison works - and the real fun begins.
Trailer Time:
Comedy of the week
How I Met Your Mother (Thursday, E4)
Okay, the show's well past its sell-by date, but I'm starting to feel nostalgic about it already – and it was a good-if-Friendstastic laugh for a few years. In this week's fourth-last ever episode (if you count the hour-long finale as two), and with only a couple of hours left before the wedding, the gang goes crazy reminiscing about past encounters with Marshall's former work-mate Gary Blauman when he unexpectedly shows up for the ceremony.
Trailer Time:
Documentary of the week
Europe's Immigration Disaster (Tuesday, Channel 4)
On October 3 last year a boat carrying over 500 migrants from North Africa capsized off the Italian Island of Lampedusa. 360 people drowned, many of them women and children. It was one of Europe's worst maritime disasters since the Second World War. This film tells the inside story of the tragedy through the testimony of survivors, as well as locals who were first on the scene.
Trailer Time:
Zed Nelson's "Europe's Immigration Disaster" for Channel 4 'Dispatches' - TRAILER from Zed Nelson on Vimeo.
Film of the Week
The Hunger Games (Saturday, Channel 4)
Based on Suzanne Collins' hugely popular novel cycle of the same name, this dystopian tale of teenagers battling it out to the death for the pride of their district could easily have gone very wrong but instead is a hugely enjoyable, morally complex story. The magnetic Jennifer Lawrence heads an impressive cast that includes Liam Hemsworth, Woody Harrelson, Elizabeth Banks and Donald Sutherland.
Trailer Time: