Families have always been a central focus on the small screen. John Byrne takes a kith and kin route in this week's glance at the googlebox.
Reviewed: The Middle (Tuesday, Comedy Central); Modern Family (Monday, Sky One); Tigers About the House (Monday, BBC Two); The World Cup (daily, RTÉ Two)
The bog-standard TV show since the 1950s has been the family sitcom that all generations could watch together and laugh at how it compared to their experiences.
All changed these days, though. Like most facets of family life TV-viewing has become so splintered in our house even the wife and myself rarely watch shows together. We long ago gave up on our two lads, and I think the last show all four of us watched together was the finale of Lost.
There are sporting exceptions, but more of that later.
So where does that leave the family sitcom? Well, guess what? We're still watching in numbers, but not so much together at the one time. And after catching up on two of America's current crop of comedies it's obvious that the family show still has its place and – best of all – they're still funny.
Modern Family (Monday, Sky One) is coming to the end of its fifth season and there's no sign of it flagging.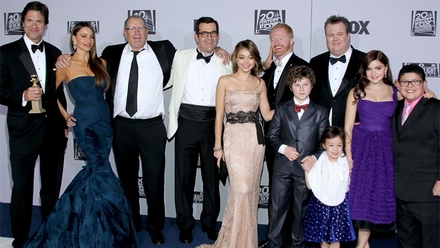 Things had threatened to go a bit lame this season as the extended Pritchett family holidayed in Australia. Such moves are classic Jump The Shark moments in a show's history, but they got away with it here.
In the last couple of episodes the focus has been on Cam and Mitch's wedding, and given the fuss in the USA and elsewhere about gay marriage, it's hugely topical too.
But 'topical' will only get you so far. The only rule in comedy is to make people laugh. As wedding plans begin to fall apart for the two lads, hilarity ensues when they get daughter Lily to enter a closed dry cleaners through a deposit slot, in order to rescue Cam's tux, and she ends up dangling from a rotating line of dry cleaning.
The thread running through this disaster-laden episode was Mitch's line: 'So this is our bump' and ended with the wedding being stopped by a fire chief just as the boys were tying the knot. Can't wait for next week's season finale. I'm betting on an earthquake.
The Middle (Tuesday, Comedy Central) is almost off the radar now that it's gone from Sky One, but it still delivers. Held together by Patricia (Everybody Loves Raymond) Heaton, the latest episode saw her character Frankie sharing carpool duties when the school bus drivers strike. Naturally enough, she's a disaster.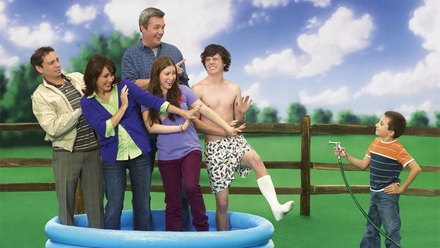 Far more surprising is book-shy eldest son Axl as he becomes an overnight expert in astronomy to try and win over a female student. Things don't end well, but it's all about the journey in this understated but quite heart-warming blue collar sitcom. The Middle makes virtues out of poor parenting and bad choices.
And so to another kind of family in Tigers About the House (Monday, BBC Two). This three-part documentary, narrated by The Walking Dead's Andrew Lincoln, follows Australia-based British zookeeper Giles Clarke as he rears two infant Sumatran tigers at home with his real family.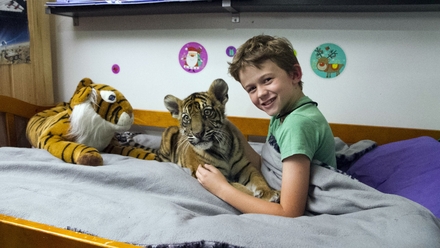 With this particular species in danger of extinction thanks to poaching, the thinking goes that these two cubs need to be reared in captivity. This opening episode followed Spot and Stripe's birth and their early days with the Clarkes.
Watching these helpless creatures being encouraged to feed from baby bottles and going through a potentially life-threatening bug or two certainly gave viewers the 'Aww' factor.
Meanwhile Clark's wife seemed to be gritting her teeth underneath a permanent smile, particularly when the cubs started teething and making such a racket Giles had to drive them around until they fell asleep.
All seems nice and cuddly – these cubs are extremely cute – but by the episode's end they are both developing canine teeth of the razor-sharp variety. Also, their paws are beginning to look more predatory than playful. Clarke's impressive bonding skills will become paramount over the next two episodes.
Football is certainly a family affair in my little world, and the front room in our gaff is bedecked with Italian tricolours and, for the first time, a collection of World Cup-related Coke cans for the duration of FIFA World Cup 2014 (daily, RTÉ Two).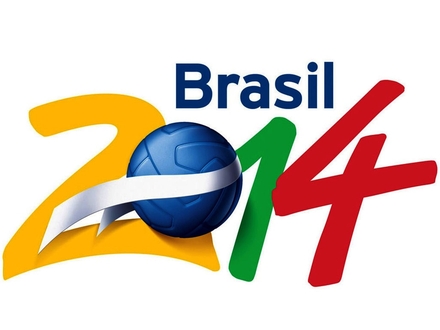 So far it's been a hugely enjoyable tournament, with last Saturday's win for the Azzurri over a game-if-limited English team being a personal highlight. As this is Bill O'Herlihy's last time presenting a World Cup, there's a certain poignancy watching him verbally wrestling with long-time analysts John Giles and Eamon Dunphy. Que sera, eh?
As always, RTÉ's coverage is all-consuming, as enjoyable as a large Sicilian cannolo - but carrying a lot less calories. I've already forgotten what it's like to have a proper conversation with my wife; it's just the odd grunt, groan and 'Germany. 1-0.' I'm even more monosyllabic. (Buh-bum.)
Hopefully she'll still be there when the dust finally settles in July. Someone's got to feed the dog and I'm busy.
John Byrne