It's drama all the way as John Byrne sets his sights on a mix of British and American, as well as old and new – including Sky Atlantic's latest, Fleming.
Reviewed: Fleming (Wednesday, Sky Atlantic): Broadchurch (Wednesday, TV3); Line of Duty (Wednesday, BBC 2); Nashville (Thursday, More4)
As in real life, it's often the same with telly: some days are busier than others. Take last Wednesday, for example. For a large chunk of the year, the focus of this midweek evening tends to be on football, specifically the Champions League. Never a major issue in our house, what usually happens is that TV one is for football (it looks so good on HD), and TV two serves the rest.
It'll be the same story this week, but last week I took in a new drama, a returned show and a whodunit I missed first time around. Of the three, Fleming (Sky Atlantic) was easily the most fun. Apparently based on the real life of James Bond creator Ian Fleming, it came across as effortlessly unrealistic as any Bond caper. Dominic Cooper is ideal in the lead role: he looks well in a tux, smokes his head off, and is shaped perfectly to balance a blonde beauty across one hip while knocking back a Martini that may be shaken but not stirred.
Whether or not this is a doctored version of Fleming's pre-Bond life is utterly pointless here – all that matters is the hour flew in, it was all great fun and filmed with style and panache. Somebody's been boning-up on Mad Men and the result is an intoxicating tale of sex, smokes, and soaks.
The contrast between Fleming and Line of Duty (BBC 2) is quite stark. This cop drama started its second season with a tremendously tense opener that felt like being in a human pressure cooker for an hour. With lots of close-ups (and even closer-ups, if you know what I mean), it was very claustrophobic and I could almost feel the throbbing inside the head of lead character DI Lindsay Denton (Keeley Hawes) who, very suddenly, finds herself the centre of attention after three officers are dead following an attack by persons unknown. Someone inside the police force is feeding info to the Really Bad Guys and that someone (or someone else - just, like, someone!) is going to get hung out to dry for it.
The anti-corruption unit is led by superintendent Ted Hastings (a suitably authoritative Adrian Dunbar) and his team's constant digging at Denton, quite frankly, left we with a headache. I cannot wait for episode two.
Call the Midwife star Jessica Raine showed her chops once again (as she did playing Doctor Who's original producer in that splendid drama An Adventure in Space and Time), this time as new recruit DC Georgia Trotman. But I hadn't much time to admire her acting skills or mesmeric eyebrows as her character found herself on the wrong side of a window ledge up quite a height. Showbiz, eh? It's all push and shove.
Next up was Broadchurch (TV3), a show I'd missed first time around on ITV as I can't record that channel on my telly and I've lost the ability to watch anything other than football live any more.
Having enjoyed universal praise I was looking forward to this drama, especially as it starred David Tennant and Olivia Colman, two British actors at the top of their game, but after a great start it's all gone a bit, well, boring. Every week it seems the writers are pointing the finger at a likely suspect as the Broadchurch cops - led by Tennant's Alec Hardy and Colman's Ellie Miller - try to solve the inexplicable murder of a local boy.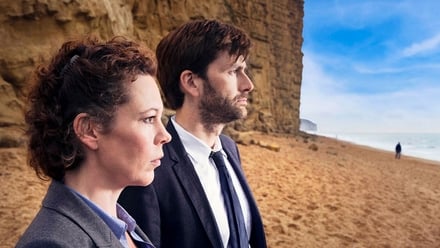 We're up to episode six and, after being seduced by the early episodes, now I really couldn't care less who the killer is, although it's not the newsagent as he's gone and done himself in after his dodgy past was revealed the previous week.
Meanwhile the case of the dead boy, Danny, remains unsolved and Hardy is told to scale back resources. With just two episodes to go I hope my resources can hang in there and see this out. If only this had been a three or four-parter it would've been perfect.
Last but certainly not least, Nashville (Thursday, More4/Tuesday, TG4). Given that our pals out the west (that's TG 4 west, not anywhere in or near Nashville) are just a few days behind More4, I'll skip the bits where I give everything away and just compliment all involved on how they're moving this joyously soapy drama forward just two episodes into its second season.
The sparring queen and princess of country music Rayna Jaymes and Juliette Barnes (played superbly by Connie Britton and Hayden Panettiere) meet the new CEO of Edgehill records, Jeff Fordham. He's played by Oliver Hudson, who you may recall from Dawson's Creek. In more recent times he's played the 30w bulb that is Adam Rhodes in Rules of Engagement. This time around his character's a lot brighter, and much less pleasant - which means only three things things in the cannibalistic capital of country music: fun, fun, and more fun. Gotta love this show.
John Byrne