TV Blog
Thursday 16 Oct 2014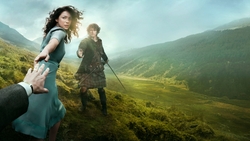 John Byrne's TV choices for the week ahead (Dates covered: Sat Oct 18 – Friday Oct 24)
In keeping with the weather, there's a deluge of new and returning shows so there's no need to go outside if you want to be entertained. Here goes . . .
Pick of the week
Outlander, Tuesday , RTÉ2
This looks like a very promising love story that also combines sci-fi elements of time travel and promises to be just the right side of bonkers. While on her second honeymoon, World War II combat nurse Claire Randall, played by Irish actress Caitriona Balfe, is ...