Gaming Blog
Friday 13 Dec 2013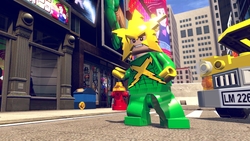 Corny and cheesy it may be, but Lego Marvel Super Heroes is also cartoon heaven for gamers, writes John Walshe.
Following on in the grand tradition of Star Wars, Batman, Indiana Jones and Lord of the Rings, this time around it's the turn of Marvel's heroes and villains to get the full-on Lego treatment.
You take control of a plethora of plasticised superheroes, from Spider-Man to Wolverine, Hawkeye to Hulk, as you bid to thwart Doctor Doom and his legion of bad guys from collecting enough cosmic bricks (bits of the Silver Surfer's board) to create the ...