New shows include gothic drama Jamaica Inn, Martin Freeman stars in the TV version of Fargo, and a drama based on the life of legendary comedian Tommy Cooper – while it's goodbye to Endeavour, The Takeover and bonkers drama Hostages.
Pick of the week
Jamaica Inn, Mon-Wed, BBC One
Here's the latest adaptation of the Daphne du Maurier gothic novel of the same name. Spread over three nights, this is the tale of Mary Yellan, a spirited young woman who finds herself alone in the world when her mother passes away. Her only option is to travel to Cornwall to stay with her aunt Patience at Jamaica Inn on Bodmin Moor. But when she arrives at the isolated Inn she discovers that Patience isn't the vibrant beauty Mary remembers from childhood, and the years of marriage to Mary's bullying uncle Joss - who's also a smuggler - have taken their toll, leaving a tired and anxious woman in her place. Mary also finds herself drawn to the enigmatic Jem Merlyn... This will either be great fun or absolute rubbish, and hopefully better than Alfred Hitchcock's half-cocked film version.
Trailer Time:
Star of the week
Martin Freeman
Fargo, Sunday, Channel 4
Ever since he came to TV viewers' attention as the very likeable Tim in The Office, Martin Freeman's enjoyed an elevated acting career, moving from Love Actually to The Lord of the Rings trilogy, Sherlock, and The Hobbit. He did say recently that he didn't want to stay in any one role, so here he goes again in this TV adaptation of the Coen Brothers' excellent Fargo. The US satellite network FX are behind this drama series following an all-new 'true crime' story and featuring a fresh cast of characters, all entrenched in the trademark humour, murder and 'Minnesota nice' that made the film of the same name a modern classic. Academy Award-winner Billy Bob Thornton (Sling Blade, A Simple Plan) stars as Lorne Malvo, a rootless, manipulative man who meets and forever changes the life of small-town insurance salesman Lester Nygaard, played by Martin Freeman. In the first episode, Nygaard meets Malvo, and things will never be the same again for the brow-beaten salesman.
Trailer Time:
Starting this week
Trying Again, Thursday, Sky 1
When it comes to making their own shows, it's been a bit hit and miss for Sky – especially when it comes to comedy. Undaunted, here's their latest offering, an eight-part collaboration between comedian Chris Addison (The Thick of It) and BAFTA award-winning writer Simon Blackwell (Veep). Given that they've been involved in two of my favourite UK comedies of recent years I'd hold out some hope for what's being billed as a 'bittersweet comedy of errors'. Lead characters Meg (Jo Joyner, EastEnders) and Matt (Addison) are a just-about-functioning couple giving love a second chance following the former's 'indiscretion' with her boss Iain (Downton Abbey's Charles Edwards). The pair attempt to make up and move on, which is easier said than done in a small English town where there's no such thing as a secret.
Trailer Time:
Also starting this week:
Storm City, Saturday, Sky 1
Ben Fogle explores the devastating impact of extreme weather, starting with the chaos caused by snow and ice.
Super Garden, Thursday, RTÉ One
It's that time of year again as five budding garden designers do battle to see who gets to appear at this summer's Bloom Festival.
Warehouse 13, Tuesday, Syfy UK
The fifth and apparently final season of a fun sci-fi series about inanimate objects that unexpectedly wield great powers.
Derek, Wednesday, Channel 4
Ricky Gervais is back for second run of his surprisingly touching and hard-hitting sitcom about Derek, played by Gervais, a helper at a nursing home.
Boss, Thursday, More4
The first season of this US political drama was great fun as Kelsey Grammer and Connie Nielsen battled it out – but apparently season two ain't so hot. Boo!
Ending this week
Endeavour, Sunday, UTV
Between them, the BBC and ITV have Sunday nights sown-up with their period dramas. Here's one that's over after a mere four episodes: the early days of Inspector Endeavour Morse. It's December 1966 and change is in the chilled Oxford air. There are plans to build a new police station – but there are also a brace of cases to keep DC Endeavour Morse (Shaun Evans) and DI Fred Thursday (Roger Allam) busy.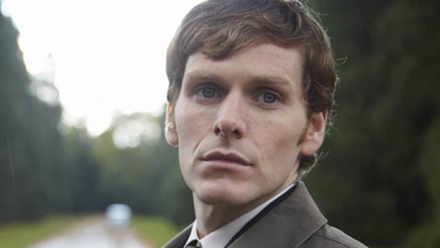 Also ending this week:
New Worlds, Tuesday, Channel 4
No, I didn't think much of this historical drama either.
The Takeover, Thursday, RTÉ Two
Norah Casey visits a traditional Dublin barbers where the staff feel that some modernisation will save an ailing business.
Hostages, Saturday, Channel 4
Gave up on this utterly flawed show a long time ago but might check out the finale. Just to make sure it is over for good.
Living the Wildlife, Tuesday, RTÉ One
Colin Stafford-Johnson explores biodiversity of the Tipperary woods where ruthless empire-building and fierce colonial wars are routine.
Neven Maguire Home Chef, Wednesday, RTÉ One
Oliver Dunne from Dublin's Cleave East Restaurant shows how to make his popular braised belly of pork.
Ian Hislop's Olden Days, Wednesday, BBC Two
The focus in this final programme is on the rural England version of the good old days. Expect thatched cottages from the start.
Drama of the week
Tommy Cooper: Not Like That Like This, Monday, UTV
Unfortunately clashing with the opening episode of Jamaica Inn on BBC One, this hugely promising one-off drama is based on the life of the legendary British comedian Tommy Cooper. Simon Nye's script focuses on the dilemma Cooper faced when he fell in love with assistant Mary Kay, a relationship that would last 17 years. The comic was already married to Gwen, someone he adored and affectionately nicknamed Dove. He was unable to choose between Dove and Mary, and the love triangle continued up to his untimely death live on TV in 1984. David Threlfall (Shameless, Nowhere Boy) plays the iconic comedian, Amanda Redman (New Tricks, Little Dorrit) takes the role of Dove and Helen McCrory (Peaky Blinders) plays Mary.
Trailer Time:
Comedy of the week
The Simpsons, Sunday, Sky 1
I take no pride in admitting that I gave up watching this once-brilliant show a long time ago. I just couldn't stand to watch The Simpsons become a mediocre and then very poor imitation of itself. Anyway, this double-bill starts off the 25th season, and the episode titles of Homerland and Treehouse of Horror XXIV are pretty self-explanatory. The former is a parody of conspiracy thriller Homeland, while the latter is the annual Halloween special. Enjoy – if you can.
Trailer Time:
Documentary of the week
Nadia Goes to Hollywood, Wednesday, 3e
In hundreds of years time, people will look back on these days and wonder why people were so obsessed with fame and celebrity. They may even watch this documentary about model-cum-singer-cum-actress-cum-celebrity-cum-whatever-you're-having-yourself, Nadia Forde, who is in Tinseltown to get her singing career off the ground. I'll be amazed if this is any thing other than fascinating.
Here's a recent clip of Nadia on elev8:
Film of the Week
Downfall, Saturday, BBC Two
As a comic fan I'd really rather go far Watchmen (Friday, RTÉ Two) but if you're not into fictitious villains, a real one's here in the shape of Adolf Hitler. Bruno Ganz is amazing (and ultimately became a YouTube cliché) while portraying the falling, fading Fuhrer in this tense drama set in the last days of Nazi Germany. War is really stupid.
Trailer Time:
John Byrne