Blog
Friday 26 Sep 2014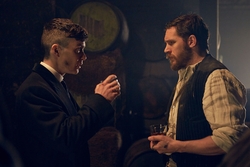 John Byrne's TV choices for the week ahead (Dates covered: Sat Sept 27 – Friday Oct 03)
Plenty of new and returning shows including Peaky Blinders and new US drama Forever – while it's goodbye to Imelda May, Ray Donovan and Cilla.
Pick of the week
Peaky Blinders, Thursdays, BBC Two
Birmingham crime boss Thomas Shelby (Cillian Murphy) heads into perilous territory in the second run of Steven Knight's acclaimed gangster epic. As the 1920s begin to roar, business is booming for the Peaky Blinders gang and Shelby expands his legal and illegal operations. He has his sights set ...