Blog
Friday 04 Sep 2015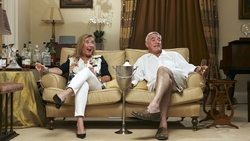 John Byrne's TV choices for the week ahead (Dates covered: Saturday, September 5 to Friday, September 11)
There are loads of new and returning shows this week including Strictly, Gogglebox and Lady Chatterley's Lover. There's simply no need to go outside any more!
Pick of the week
Gogglebox, Friday, Channel 4
When this show first arrived I thought it would be unwatchable rubbish, but it turned out to be an absolute delight. Isn't it amazing that, at this stage in our evolution, we'd be entertained by watching a TV show about other people watching television ...