Transfer Deadline Day: As It Happened
Updated: Friday, 01 Feb 2013 00:12
Tap here to refresh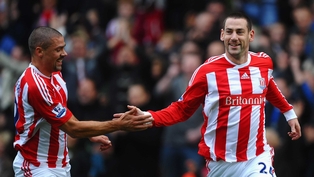 The transfer window in England has closed. Look back at all today's wheeling and dealing with our Deadline Day tracker.
Arsenal have signed Nacho Monreal from Malaga
Karl Sheppard returns to Shamrock Rovers from Reading
David Beckham signs for PSG
Mario Balotelli completes move to Milan
Rory Delap signs for Barnsley on loan
Chris Samba has signed for QPR
23:22
That's our lot for another January transfer window deadline day... It has been a bit quieter than previous years but we'll put that down to the economy...
Spare a thought for young Peter Odemwingie who's probably on the road back to the midlands, where tomorrow morning's training forecast is set to be FROSTY...
Goodnight...til next time...
23:00
The transfer window is now officially closed but no doubt some last-minute deals are still in progress...
22:45
Arsenal look like they have agreed a deal to sign Nacho Monreal....tick tick tick... 15 minutes...
22:17
Sean Curneen has had a bit of a reminisce about his J1 snogs Stateside: Beeyon Shea, a girl I kissed on a J1 in 2008 updated her facebook status...'Can't believe my cousin is moving to England'. Brek Shea to Stoke looks a certainty now... Does she know you're looking at her Facebook page, Sean...??
22:13
Some deadline day news for Everton fans...Everton have completed the transfer of defender John Stones from Barnsley...
22:07
Harry Redknapp looks likely to sign Spurs duo Andros Townsend and Jermaine Jenas ahead of the 11pm deadline...
22:05
Joan Isaac Cuenca has signed for Ajax on loan from Barcelona...
22:05
France midfielder Alou Diarra has returned to his native country to sign on loan for Stade Rennes after barely featuring for West Ham United since arriving in August.
22:03
While Celtic will not sell any players this evening, there is still a lot of talk of Ireland international Kevin Doyle signing for the Parkhead club...
22:01
Less than an hour to go...Main news of the final hour could come from Arsenal who are expected to announce the signing of Spain international Nacho Monreal
21:52
Veteran striker Kevin Philips looks set to sign for Crystal Palace until the end of the season...
21:50
Much-travelled striker DJ Campbell is set to sign for Blackburn Rovers...
21:30
Internacional will not be selling Damiao to Spurs as the London club failed to offer enough money for the Brazil international.
21:29
Brek Shea has signed a four-and-a-half year contract with Stoke City. He has to wait on a visa, though and has to now leave the country and apply to get back in...
21:18
Apparently Peter Odemwingie was never allowed into Loftus Road...QPR have too much respect for West Brom, of course...
21:01
Just under two hours to go... Has to be said, despite Sky Sports best efforts, it's been a bit of a damp squib in comparison to recent years... Here's hoping that Peter Odemwingie will liven up the last couple of hours...
20:18
Stoke are set to seal the signing of United States international Brek Shea after a successful work permit appeal in London. The 22-year-old FC Dallas winger is now in talks with the Potters in a bid to complete a move before the 11pm transfer deadline.
20:14
It would appear that Peter Odemwingie has decided to step it up ahead of the 11pm deadline tonight as the West Brom striker has arrived in London for talks with QPR, only for his club to deny giving him permission to do so.
20:12
Now I'm not inclined to take the word of a crook but... Sean emails to tell us: My mate Juan works as a professional pick pocket on the green line on the Barcelona Metro. He claims to have robbed 50 euro off Jim McGuinness earlier today...Is the Donegal man taking on a coaching role at the Camp Nou?
20:04
Liverpool have confirmed goalkeeper Alexander Doni has left the club to join Brazilian side Botafogo. Doni joined the Reds from Roma in 2011 but made just four first-team appearances, his last involvement coming on the last day of last season at Swansea.
20:03
Fulham have confirmed the signing of Bulgaria international right-back
Stanislav Manolev from PSV Eindhoven on loan until the end of the season.
19:52
Spurs' Jermaine Jenas looks set to complete a move to QPR, tells Sky Sports he is looking at a loan move with the potential for a 18-month full-time deal.
19:49
Patrick O'Dea via email: "My Dad just headed of to 'Jinty McGinty's' bar in Glasgow to meet Paddy Hooper, Gary's Dad. He said left his wallet behind him in our house. He can be forgetful but pretty sure he didnt forget the wallet. Seems like a certain signing on fee may be funding a few icey cold Smithwicks and Magners for my wee Da and Paddy."
19:33
"I'm very optimistic that I will join QPR, it's a new chapter in my life, but it's not 100% yet," says WBA's Peter Odemwingie
19:20
Celtic chief executive Peter Lawwell has returned to the club this evening, this Hooper thing has legs...
19:16
Sky Sports are showing pictures of Peter Odemwingie arriving at QPR, his proposed move looks closer.
19:08
Fulham sign Stanislav Manolev from PSV on loan until the summer of 2013 with an option of two further years, the club have announced on their website.
18:18
Reports in Spain that Arsene Wenger had started talks with Spain international full-back Nacho Monreal. Twenty-six-year-old Monreal started his career with Osasuna before moving to current club Malaga in the summer of 2011.
18:00
Another transfer that might go down to the wire is Everton's pursuit of striker Alvaro Negredo from Seville. The Spain international has scored 54 goals in 122 games for the La Liga club and 6 goals in 12 international appearances.
17:54
Strong rumours coming from the Twitter machine that Spurs may join in the race to land Celtic's Gary Hooper. Perhaps just what the Parkhead club were hoping would happen. A nice little bidding war for the Celtic striker??
17:45
Kieron Dyer looks set to make his Middlesbrough debut against first club Ipswich at Portman Road on Saturday. And Luis Saha has been released by Sunderland...
17:15
Newcastle United have signed 17-year-old Kevin Mbabu from Swiss club Servette on a three-and-a-half year deal
17:12
Highly rated 19-year-old goalkeeper Jack Butland has signed for Stoke City but will stay at Birmingham on a loan-back deal until the end of the season.
17:07
Tottenham have confirmed that goalkeeper Heurelho Gomes has joined German side Hoffenheim on loan until the end of the season.
17:05
Rumours that Aiden McGeady move from Spartak Moscow to Wigan will NOT go through before the end of the transfer window...
17:00
David Beckham: My salary will be going to a local children's charity... Fair play, Becks...
16:56
Getting bored of the Deadline Day yet? Here's another four minutes to get you through the end of the office day...
16:48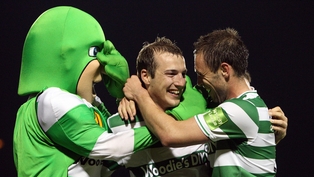 BREAKING NEWS: Shamrock Rovers have just completed the signing of striker, Karl Sheppard on loan from English Premier League side, Reading.
16:44
Meanwhile, back in the humdrum of the EPL: Chelsea midfielder Eden Hazard will not have his three-match ban for violent conduct increased, the FA has confirmed.
16:35
BREAKING NEWS: David Beckham has signed a five-month contract for Paris St Germain.
16:32
The economic downturn in Ireland has led to lots of Uncles heading to Blighty in search of work, and it's proving very handy for our Transfer Deadline Day:
Hugh tells us: Think the unsigned Harry Kewell could be on his way back to Elland road! My uncle Graham works in the Carphone Warehouse in west Yorkshire and just sold Harry a Nokia 3210 and gave him a new british phone number. He didn't want to intrude on Kewell's privacy by asking him where he was heading but he said Kewell seemed very giddy.
16:29
LIVE: David Beckham is speaking to the media in France after signing for Paris Saint Germain – Watch it here:
16:24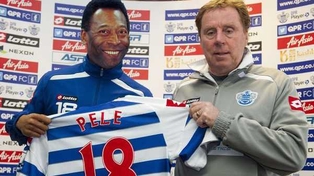 Mark in London is out to prove that he's the king of the Photoshop...
16:20
Four Norwich City offers for Gary Hooper have now been rejected by Celtic... Odds-on that this will be one of those 10:59pm deals that just sneaks through at the last minute...
16:05
Breaking News: Aston Villa have signed midfielder Yacouba Sylla from Clermont Foot on a three-and-a-half year contract. Well that's Villa safe so...
15:51
David Beckham press conference seems to be a little bit delayed... Probably getting some last-minute linguistic lessons on the correct pronunciation of... Merci Beaucoup...
15:50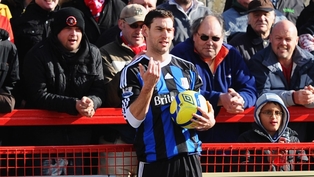 Looks like Barnsley fans are in for a bit of long-throw trickery for the remainder of the season as former Ireland international Rory Delap has joined Oakwell club on loan from Stoke City.
15:45
Good to see that mid-afternoon slump is paying dividends as some of you are starting to take this Transfer Deadline Day a bit more serious.
From Hugh O'Dea: My mate Denis works in a shop in Reading called the 'Range'. He rang me there and said Ian Harte and his girlfriend just pooped into the store asking for card board boxes. Denis said Ian wouldnt reveal where he was heading but Yorkshire slipped out of his girlfriends mouth. Leeds looks back on the cards for the Irish Left full!
I'm sure, if this story has even the slightest semblence of truth, that Hartey did not poop in the shop but perhaps popped in...
15:30
Latest news from Paris is that David Beckham has PASSED his medical and is set to be unveiled as a PSG player in the next 30 minutes...
14:48
Patrick O'Dea writes: "My dad was just in the Heathrow VIP lounge with Dwight Yorke en route to Sky Sports HQ. He told him Nani was on his way to PSG. For the record Dwight Yorke was wearing a suit made of liquorice all sorts and safety pins at the time."
14:45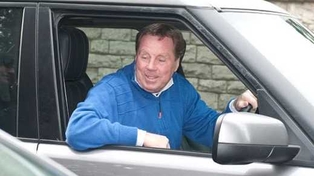 Sky Sports have reportedly left QPR's training ground, meaning Harry Redknapp now has to visit McDonald's drive thrus in order to talk out of his car window.
14:30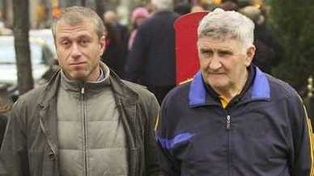 Nice work Allie, who says: "New Chelsea manager revealed... He couldn't do any worse than Rafa is doing at the moment"
14:11
Aston Villa have announced they are set to complete the signing of French midfielder Yacouba Sylla from Ligue 2 side Clermont Foot this afternoon. Sylla will become the first new arrival of the January transfer window for Villa, who are currently 19th in the league table.
14:08
Sunderland have confirmed the £5million signing of Danny Graham from Swansea on a three-and-a-half-year deal.
13:57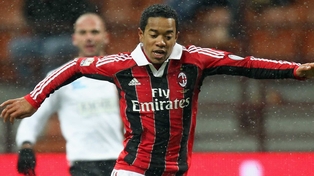 Fulham confirm loan signing of Urby Emanuelson from Milan until the end of the season.
13:49
Patrick O'Dea via email: "My cousin Alecc is a waiter in Red Lobster is New York. He just served Richard Dunne a large bowl of apple crumble and a chocolate milkshake. On the move to the Red Bulls possibly?" Hmmm...
13:35
Sky Sports say Stoke's bid for Jack Butland is just under £4m and involves players being loaned to Birmingham, including Ryan Shotton.
13:26
Reports coming through that Notts Forest have bid £300,000 for Ireland international Stephen Ward, a bid that has been rejected by Wolves.
13:18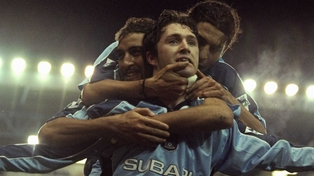 Just realised we don't have a Robbie Keane transfer rumour on the tracker, apologies for that omission.
Jonathan Reddington: "Just off the phone to my cousin vinnie as he works as a taxi man in Liverpool. He said he has just collected Robbie Keane from John lennon airport and has dropped him off at the Thistle Hotel in the city. Red or Blue is the only question that remains to be seen before 11pm tonight?" Here's a recent photo of the Ireland captain.





12:59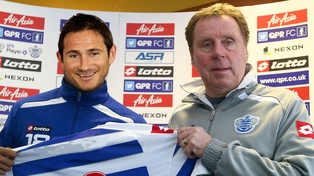 Vision of the future? A not-at-all photoshopped effort.... If you can do better email sportonline@rte.ie
12:58
David McCarthy: "Hi, Stop the cars, roll down the windows - this is the latest (very reliable) transfer news. The race for David Villa's signature is heating up. Reports indicate Arsene Wenger is reluctantly prepared to offer Barcelona the services of Andre Santos plus EUR0.5 million in order to get his man. Sources close to the Arsenal manager say that with the quality talent/money offer he is tabling he is extremely confident of the deal going through by tonight."
Reports indicate, sources say etc...
12:52
Liverpool's Dani Pacheco is to join Spanish Second Division side SD Huesca on loan for the rest of the season. Also, the Anfield club are still hoping to sign Tom Ince, although that will only happen if Blackpool drop their asking price to closer to the £6million Liverpool have offered.
12:30
Christopher Samba has signed a four-and-a-half-year deal with QPR for an undisclosed club-record fee from Russian side Anzhi Makhachkala, the club have confirmed.


12:19
Pauly C writes: "A 100% reliable source has told me that as well as Mancini and Hodgson being spotted in the crowd in the Emirates last night, Giovanni Trapattoni and Marco Tardelli were also in attendance to cast their eye over and try and coax another ex-Irish international out of retirement. Liam Brady refused to comment on this when put to him fuelling further speculation..
I reckon Trap would still select Glenn Whelan ahead of Brady in his pomp Pauly...
12:11
Norwich have confirmed the signing of Luciano Becchio from Leeds. Steve Morison will move from the Canaries to the West Yorkshire club as part of the deal.
12:05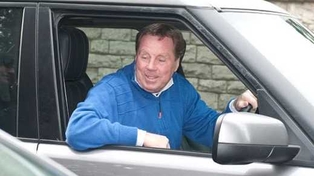 Transfer deadline day recluse Harry Redknapp says (through the window of his car, honestly) to Sky Sports: "It was difficult for David (Bentley) at Tottenham as I had Aaron Lennon and Gareth Bale. It was a bit difficult for him to get in the side but we will have to wait and see. I am not sure what is happening with that one yet today. If (Jermaine) Jenas is fit, he is a good player. We will have to wait and see."
12:01
Tottenham goalkeeper Heurelho Gomes is reportedly closing in on a loan move to Hoffenheim. Gomes has fallen well down the pecking order in the last two years following the arrivals of Brad Friedel and Hugo Lloris.
11:54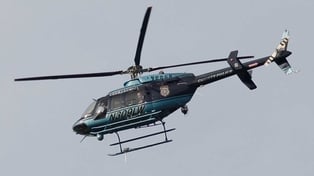 Report: A helicopter will be involved in someone's transfer to somewhere, sometime today.
11:50
Racheal O'Leary says: "I am the chairperson of the Irish nottingham forest fans club of ireland. My contact in nottingham at the club has called me letting me know that Danny Simpson is to under go a medical at the clubs traing facility in the next hour or so. 500K for him would be a great boost for us. COYF."
This may or may not be true, but hey! It's transfer deadline day.
11:45
Irish transfer news now as Cork City have signed Denis Behan. The 29-year-old returns to the club following spells with Hartlepool United and Limerick.
11:37
QPR midfielder Alejandro Faurlin has completed his loan move to Palermo until the end of the season, the Italian club have confirmed.
11:35
Rumours suggest David Villa may yet be on his way to Arsenal with some bookies making them 3/1 favourites to sign the Barcelona striker, and Man City at 6/1.
11:19
Leeds striker Luciano Becchio has passed a medical at Norwich and is expected to sign for the club later today.
11:16
David Beckham is having a medical at PSG.
11:15
Brian Moroney says: "I live near Barnet Football Club over here in north London and rumour here is they are bringing in former Ireland underage player Peter McKnight to the club. Trying to get his career back on track no doubt – will Trapatonni come calling next!!!"
11:05
Super Mario says: "For sure I will remember my brilliant team-mates, the manager and all the supporters. They are the best, they were great with me and I will always have a very special place in my heart for City, it's a great club with a great future. I thank them for all of their support of me. Maybe one day we will see each other again."
I think I've got some dust in my eye...
10:59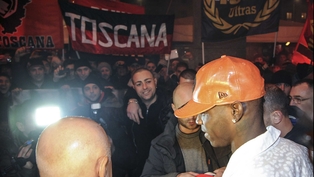 Mario Balotelli will be missed in England, not necessarily for the right reasons though.
10:53
Same s**t, different transfer deadline day... Mike Ashley has just arrived at Newcastle's training ground in a helicopter, while Harry Redknapp has discussed his transfer hopes to reporters from the comfort of his car.
10:46
The Premier League has just officially become a little bit duller with the news that Mario Balotelli has completed his move from Manchester City to AC Milan. Hard to know if he will be more missed by City fans or the tabloid newspapers.
10:18
Wigan have confirmed the signing of Paul Scharner on loan from Hamburg for the rest of the season. Scharner is returning to the DW Stadium having spent over five years with the Latics before leaving for West Brom in the summer of 2010.


10:14
Tenuous transfer rumour of the day so far comes from Matt Dolan who emailed us to say, "My mate Andy operates a shoe shine stand in Dublin Airport. He just told me that he saw Pascal Chimbonda jump on a connecting flight to Chicago with his agent. Chicago Fire in the market?"
10:00
Middlesbrough have agreed a deal with Swansea for striker Danny Graham, although Sunderland are also interested
09:44
QPR manager Harry Redknapp is also looking at bringing in another striker, with Stoke's Peter Crouch and West Brom's Peter Odemwingie amongst those targeted. Redknapp is also looking to former club Tottenham for additions, with interest in Jermaine Jenas and David Bentley. "It was difficult for David at Tottenham as I had Aaron Lennon and Gareth Bale," he said. "It was a bit difficult for him to get in the side but we will have to wait and see. I am not sure what is happening with that one yet today. "If Jenas is fit, he is a good player. We will have to wait and see."
09:40
Christopher Samba is edging closer to a move to QPR after manager Harry Redknapp revealed the defender had passed a medical. The former Blackburn centre-back is one of the west Londoners' key targets as the Rs boss looks to shore up his defence. Samba now looks set to leave Russian side Anzhi Makhachkala for Loftus Road after QPR yesterday triggered his release clause.





09:25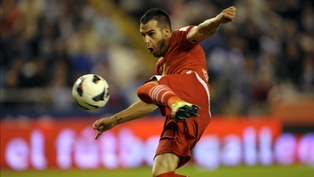 Everton are said to be trying to tie up a deal for Sevilla striker Alvaro Negredo. Everton's deal FC Twente midfield man Leroy Fer has fallen through so the Goodison Park club are said to be trying to push through a cut price £8.5 million offer for the Spanish striker.
09:17
Urby Emanuelson is expected to join Fulham on loan from AC Milan for the rest of the season.
09:06
Aston Villa are reportedly in talks with defensive midfielder Yacouba Sylla. The Clermont Foot midfielder would be Paul Lambert's first signing of the transfer window for struggling Villa. He is expected to cost around £2million.